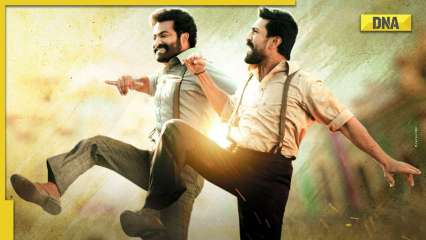 SS Rajamouli's period action blockbuster RRR, featuring Jr NTR and Ram Charan, was released in the theaters worldwide on March 25 last year. Netizens are celebrating its one-year anniversary with the hashtag #1YearOfHistoricalRRR trending on Twitter. The film is not just the highest-grossing Indian film of 2022, earning over Rs 1200 crore at the global box office, but also made the nation proud when it won the Best Original Song for Naatu Naatu at the 95th Academy Awards earlier this month.

On Saturday, SS Rajamouli's son SS Karthikeya, who has been associated with RRR since its beginning, penned a long heartfelt note on Naatu Naatu's journey from its inception to the Oscars. He wrote, "Today is deeply emotional as it marks the completion of 1 year since the release of RRR, and the most glorious 365 days of uninterrupted celebrations. Cut back to 2107, the very idea of featuring two of the country's biggest stars in one film sparked immense excitement in me and among everyone."

"Among the number of mind-bending sequences in the movie, one sequence which stood out and created a wave across the globe is 'Naatu Naatu'. We all were obviously expecting a dance number, but I sure wasn't able to imagine the context and the 'HOW'. When Baba narrated the face-off sequence and the set-up, I was psyched out of my mind", he continued.

Karthikeya further added, "As a crew member, I couldn't wait to show this to everyone on the big screen and simultaneously as an audience, I couldn't wait to watch it on the big screen! This power-packed dance number was like a movie by itself for me. Keeravaani Babai's massy and electrifying tunes coupled with Bhairava's final touch to the programming gave us goosebumps. After being energised by the magic of the audio,( programmed by Jeevan garu and Siddhu and sung by bhairava and Rahul) began the visual rampage of Prem Master."

Talking about the song's brief, he said, "The brief was simple – The dance moves should neither be too easy nor too complicated. Prem Master then embarked on a long, relentless, and arduous journey of choreographing the most challenging dance number ever, getting the country's finest two dancers to dance together for the 1st time! He choreographed 120+ variations of the moves in a span of 2 months, from which around 15 or 20 were retained for the song. He kept rotating his crew as they used to get exhausted and couldn't keep up with the rigour and pace of the steps."
Probably the most eventful year in my life. From the release of RRR to the Oscars. Will forever cherish this #1YearOfHistoricalRRR #RRRMovie pic.twitter.com/P9NELbT1KL


— S S Karthikeya (@ssk1122) March 25, 2023
Recalling how Naatu Naatu was shot in Ukraine, he added, "The unwavering dedication, support and professionalism of our crew in Ukraine made our journey a smooth one and the "Naatu Naatu" you see today possible. We will always have a special place in our hearts for our Ukraine Family. Once our brilliant actors My Tarak Anna and My brother Charan entered the sets, we quickly realised something big was in the making. Their blazing dance, the magical choreography, the pulsating music, and the overall vibe, the way all the elements complemented each other, made us believe that the theatres were going to be on fire. Without a Doubt!."

He further thanked the fans for their unconditional love and support for the film. Expressing gratitude to the entire team for RRR's success, he concluded his note as he wrote, "They say teamwork makes the dream work! But when the dream is a wild passion project like RRR, teamwork becomes a precondition and not a priority. While everyone says RRR scripted history, it has transcended beyond a film to become a phenomenon, era, milestone, and pride in all our careers. We will carry this in our hearts with humility and work more to make our nation more proud."
READ | Ram Charan denies producer Raj Kapoor's claims of refusing to perform Naatu Naatu at Oscars: 'I was 100% ready but…'