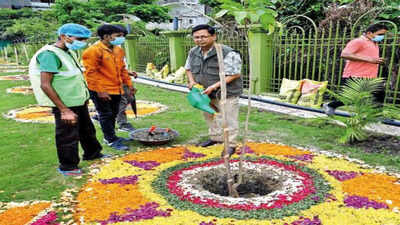 NKDA chairman Debashis Sen plants saplings in New Town
KOLKATA: New Town is set to get 10,000 new trees and saplings to add to its green cover this year.
New Town Kolkata Development Authority (NKDA) has set a target of planting 10,000 trees across New Town with stress on the canal side and avenue plantation. In the last two years, after Amphan in 2020, NKDA planted over 20,000 saplings and trees.
"This year, we plan to plant another 10,000 trees in New Town, focusing on the road side and canal side spaces," said NKDA chairman Debashis Sen.
Several residents' welfare associations and block committees have also been taking up plantation in vacant plots.
Following recommendations by experts, NKDA came up with some criteria for planting trees. "Trees with a large canopy should not be planted as it could obstruct street lights, and motorists' vision," said an official.
In Sector V, where there is not much space left for avenue plantation, NDITA will plant saplings in pockets and urge institutes to develop vertical gardens on their buildings.
NKDA has been trying to come up with ideas to increase the green cover. The authorities converted small rubbish heaps into green zones by developing micro-gardens.
FOLLOW US ON SOCIAL MEDIA
FacebookTwitterInstagramKOO APPYOUTUBE