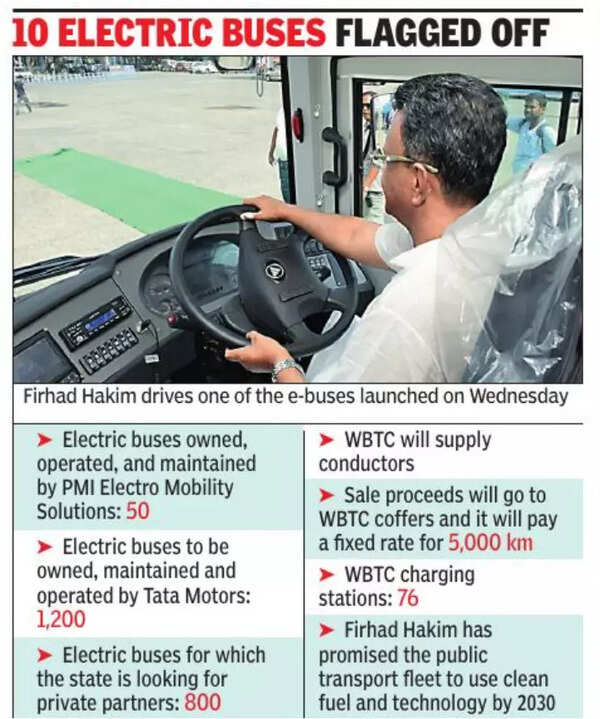 KOLKATA: State transport minister Firhad
Hakim
on Wednesday flagged off 10 e-buses, kick-starting the operating expenses (OPEX) model for electric bus services in the city under the Faster Adoption and Manufacturing of Hybrid and Electric vehicles (FAME II) scheme. Hakim, who also drove one of the buses, offering transport principal secretary
Rajesh Sinha
and WBTC MD RVS Kapoor a ride, said he found it extremely simple to steer the vehicle.
Tata Motors Electric's vehicle division has also bagged the tender for 1,200 more electric buses for the city and the vehicles are supposed to arrive in phases over the next two years, said an official. Hakim said, "I, as the mayor of Kolkata, had pledged at Copenhagen that by 2030, we will take a paradigm shift to zero-emission mobility in the city. I am very happy that every day, we are taking baby steps towards that goal." Around 480 of the 1,200 buses will be air-conditioned (AC) and the rest will be non-AC.
The 10 buses launched on Wednesday are the first among 50 buses, which are manufactured by Delhi-based PMI Electro Mobility Solutions (PMIEMS). "Under the OPEX model, PMIEMS will operate, charge and maintain the vehicles at their own cost. We provide the conductor and the daily earnings will come to the government coffers. We will pay them Rs 86 per km," Hakim told TOI after the inauguration. The rest of the 40 buses will be on the road by July-end.
OPEX was a win-win model for all—the government, commuters and operators, said a senior official. Unlike the CAPEX model, the government does not need to spend upfront for the buses. "We will pay them at a fixed rate for 5,000km. This private-public partnership in public transportation will be hugely beneficial for commuters. Because of the electric mobility, the fare will always be under check," said the official.
"The tender for 1,200 more electric buses for the city was bagged by Tata Motors Electric's vehicle division. The buses will come to the city in phases over the next two years. The state needs to pay Rs 40 per km for each of those buses. This, we think, will be a game-changer in the public transport sector," said a West Bengal Transport Corporation officer. Four-hundred of the e-buses are expected to be on the road by the end of 2022 and the remaining 800 buses are to be delivered by 2023.
Hakim said because of the record rise in fossil fuel prices, diesel-driven bus operation had become unsustainable. "Just by increasing fares, you cannot turn it sustainable. How many times would you raise the fare? That's why, we started thinking of alternative fuel. Electric mobility just fitted the bill," he said.
The transport department is also planning to launch electric vessels on the Hooghly. The design and planning for the conversion of one electric ferry, accommodating approximately 100 passengers, were in progress and it was expected to be completed by the next few months, said a WBTC officer.
Discussions for electric trolley bus, using existing tram electrical power infrastructure, is also in progress.