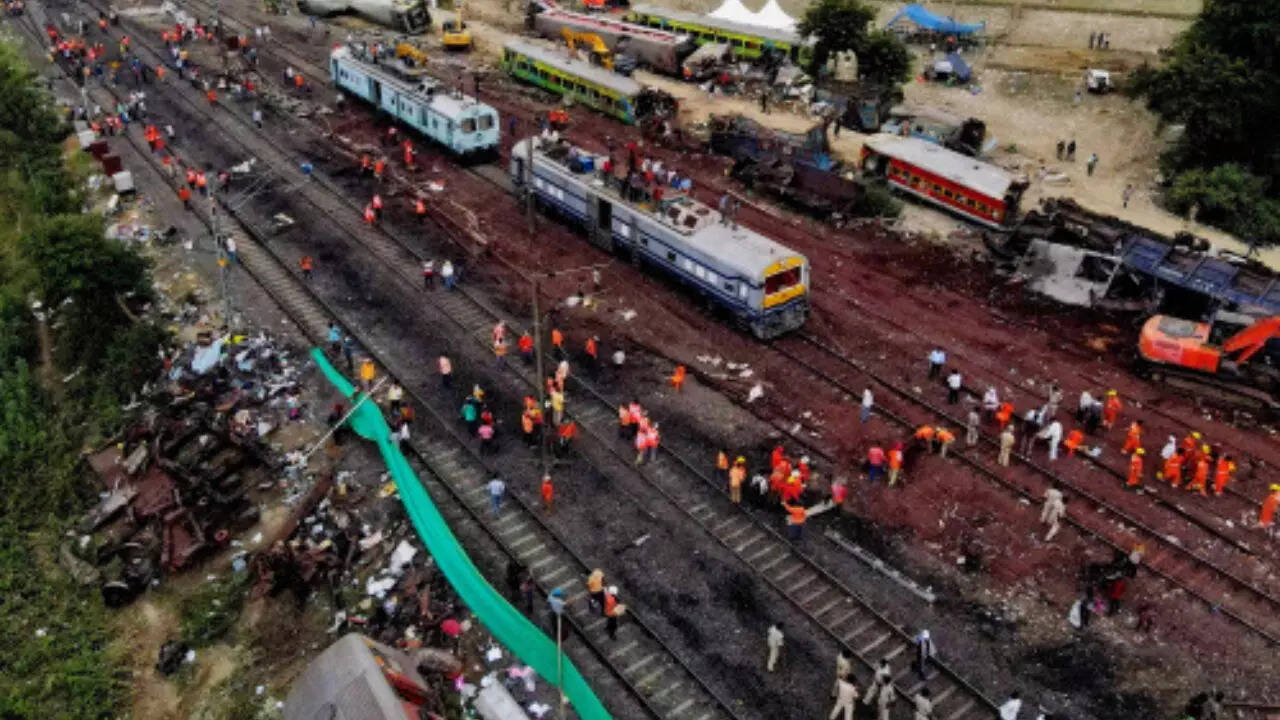 BURDWAN(WEST BENGAL): Chotu Sardar, who just turned 18, dreamt of building a pucca house for his family, so he joined his father — a construction worker — to venture to
Kerala
in search of work.
His dream remained unfulfilled as Chotu lost his life in the train crash in Odisha's Balasore. Chotu's father Suklal survived the accident, but the sight of his dead son devastated him.
As the news of Chotu's death reached his house in Korui village in Katwa in West Bengal's Purba Bardhaman district, a pall of gloom descended.
Suklal has been working as a mason in Kerala for long, locals said, adding that he took his son along with him for the first time.
He wanted his family to have a better life, so he wanted to train his son in masonry and took him along, they said.
They were among 10 people from the village travelling on Friday's ill-fated Coromandel Express, which was involved in the triple crash in Balasore.
Suklal is at present critical and undergoing treatment at a hospital in Odisha. Many members of the group are still missing, locals said.
Saddam Sheikh, 28, of nearby Kaithan village also lost his life in the train crash. He was heading to Kerala to work as a construction labourer.
He is survived by a one-month-old son and wife.
Yead Ali Sheikh, 37, of Kurumb village in Mongalkote police station area is missing after the accident. He too was travelling on Coromandel Express in search of work.
Yead Ali and Taher Ali are two brothers, who work as construction workers in Kerala. The two brothers go to the southern state alternately. Taher Ali would have returned home after Yead Ali reached Kerala, their family said.
Yead Ali's wife, two children and their parents were spending sleepless nights, waiting for the news of his whereabouts.
His phone has been ringing, but no one is picking up, his father said.
Locals said the family does not have enough money to hire a vehicle and go to the accident site in the Balasore district.
District Magistrate Priyanka Singla said five people from the district have been killed in the accident, and all of them were travelling on the Coromandel Express.
State Animal Resource Development Minister Swapan Debnath, the MLA of Purbasthali Dakshin, said he is keeping a tab on the situation.
The state government will provide all assistance to the victims and their families, he said.
Thirteen migrant workers from Bhatar police station area were also travelling to Kerala on that train. Though injured in the accident, they managed to return home on their own — in two groups.
"We were in our seats when the accident happened around 7 pm. Our coach overturned after a loud noise. Somehow, we managed to get out through the window. Tiptoing through the bodies, we reached the main road and from there, went to Balasore town. We took a bus from Balasore, and reached Howrah," an injured Sarafat Ali Sheikh told PTI.
Sheikh Putu, who was also injured, said they were going to Kerala to work as construction labourers.
"After the pile-up, our coach got atop another bogey. We also managed to get out through the window. It was an indescribable situation with bodies scattered all around and injured persons lying on one another," he said.
"After we got out, police removed us from the spot. We started calling up other people of our group. And after a few of us gathered, we hired a minivan and returned to Bhatar," he added.
Putu claimed they did not get any help in Odisha. "After returning home, we were taken to the Bhatar hospital. From there, one person was sent to the Burdwan Medical College and Hospital. All of us are well," he said.
A helpdesk has been set up at the Burdwan station by the district administration for providing assistance to the accident victims.
Three trains — Shalimar-Chennai Coromandel Express, Bengaluru-Howrah super fast and a goods train — were involved in the pile-up, now being described as one of India's worst train accidents.
The Coromandel Express crashed into a stationary goods train, derailing most of its coaches around 7 pm on Friday. A few passenger wagons of the Coromandel Express whiplashed the last few coaches of the Bengaluru-Howrah Express which was passing by at the same time.
Investigators are looking into possible human error, signal failure and other causes behind the three-train crash.
(With PTI inputs)