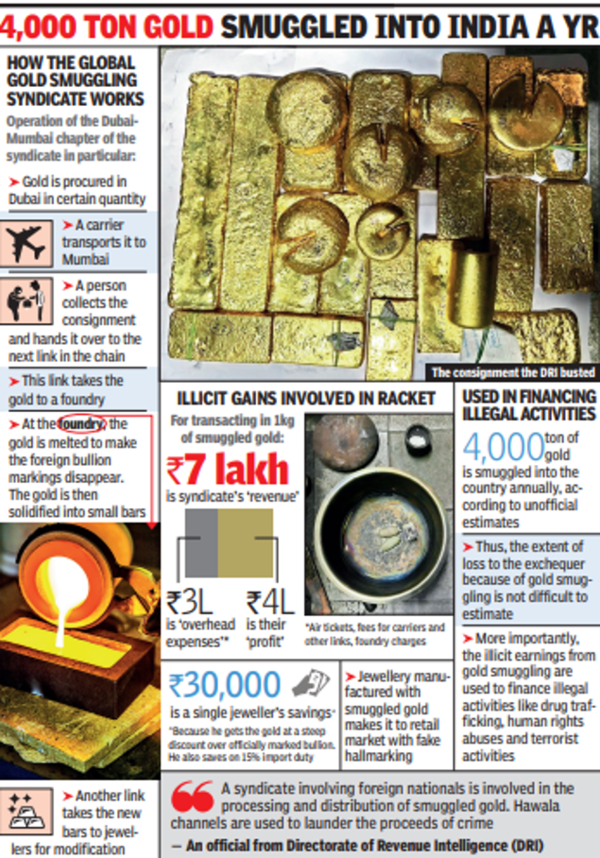 MUMBAI: The Directorate of Revenue Intelligence (DRI) has busted a gold smuggling ring after chancing upon a consignment of rotors with 5.8kg of gold worth Rs 3.5 crore hidden within.
The investigation led the DRI to a melting and processing unit of smuggled gold in Kalbadevi.
A search was conducted at Dhanji Street, Kalbadevi, where the DRI seized almost 37kg of gold worth nearly Rs 22 crore and Rs 2.35 crore in cash.
The DRI arrested Prashant Mohan Mainkar, who was in charge of the melting unit. Officials said the accused failed to provide any supporting documents, such as stock register, books of accounts or GST registration numbers, to justify the presence of the stated amounts of gold and cash on their premises. The unit was in operation for a year. The operation was a follow-up of an earlier one in May, when the DRI intercepted a consignment at the air cargo complex of the airport's international terminal (T2) and seized the rotor consignment. An arrest (of Satyawan Pawar) was made at the time. (A rotor is a rotating component of a machine, such as an engine or electric motor.)
Public prosecutor Amit Munde argued in court that it appears Mainkar is part of a gold smuggling racket which uses hawala channels to send money abroad for smuggling gold, and this needs further investigation. Therefore, the court granted two days of custody of the accused. Mainkar had obtained the gold from various individuals, including foreigners, in the form of capsules carried through body concealment and in travel bags, layering of clothes, and machines. He was also found in possession of unaccounted-for cash of more than Rs 20 lakh.