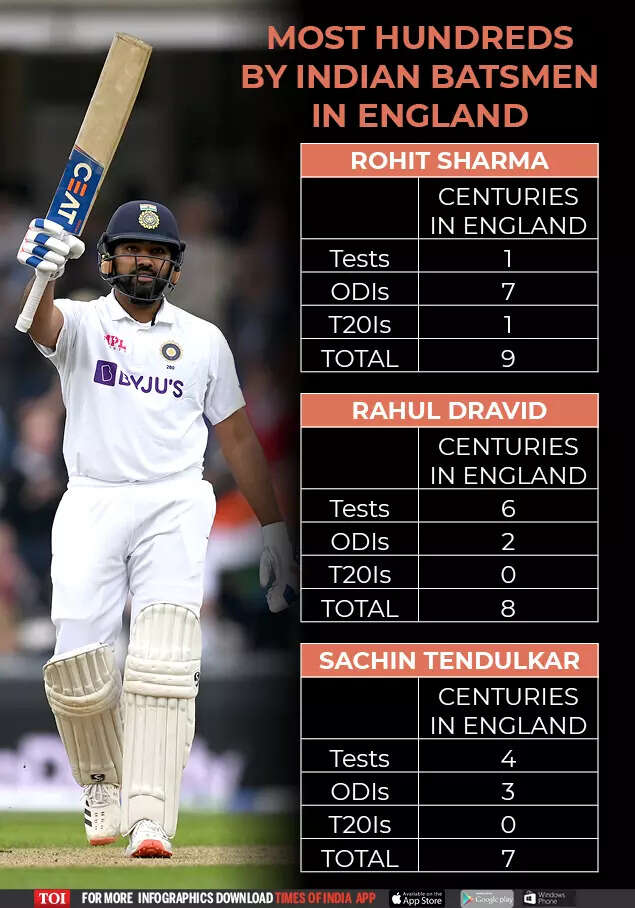 "One-day cricket and Tests, there's a massive difference between the two."
Rohit Sharma
wasn't stating the obvious after his career-defining 127 at the Oval. He was just trying to comprehend what took him so long to score his first Test century outside India: eight years and 47 innings since his debut, the third longest wait of all time behind
Ian Redpath
(64 innings) and
Shivnarine Chanderpaul
(52).
Arguably this generation's most impactful white-ball opener, it's only now, past 34, that Rohit is fulfilling a long-held prophecy: that of using the considerable talents at his disposal to become a viable option at the top of the order for India in away Tests.
"Most importantly it's discipline," he continued, offering a peek into the processes which led to the Oval knock, in which he completely eschewed his trademark flamboyance to play out a monumental 256 balls. It was the third longest innings by an Indian opener in England since 2000.
Rohit now has the most international hundreds of any Indian batsman in England, 9 to Dravid's 8, with 8 of them having come after 2018. Yet none of the ones which came before mattered as much. "This (Oval ton) holds a lot of value. It has come in testing conditions against a quality bowling attack," he said.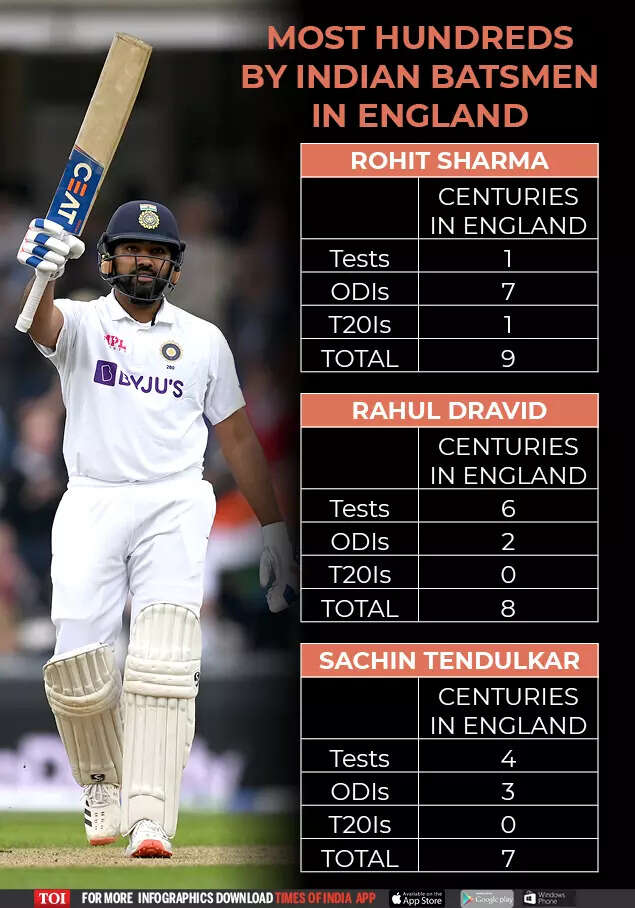 He must have wanted this one desperately, for years, to keep the effort going so late into his career. "It's not just like you come in here (England) and get a hundred. It's a process. It takes time. When you're playing overseas it's never easy. I had a lot of chats with players who have come in here and done well. I knew the rewards will happen, but it will take time. I was very patient.
"When I started opening, I knew all those big scores (overseas) are not just going to happen," Rohit said, explaining how he had to "keep ticking the small boxes" in order to get the big one.
"You can't just come to a place like England and play shots. There were little adjustments I had to make based on the situation and the conditions, certain type of bowlers. It was an enjoyable process."
Rohit says he set incremental goals. "Most pleasing was that I was able to play 250 balls. If you look at the Tests (on this tour) I have played nearly 100 balls in every innings. That to me was a goal, see how I can stay on the pitch for as long as possible.
"Once you do that, things start to get easier. It's discipline… leaving the ball, solid tight defence. Spending time has been my biggest takeaway. I don't mind looking ugly at times as long as I can get the job done. When I came here for the WTC Final, I knew I had to put in my best effort however I could, whatever it takes."
It's the sort of traditional approach to building an innings most T20-bred batsmen now tend to dislike. Rohit says he realized in Oct 2019, when he was told to open the innings, that it could be a final opportunity to resurrect his flagging Test career.
"At the back of my mind I knew this was my last chance. I batted in the middle order but things didn't go as per the way I wanted it to. When you are playing a sport, you always have to take those chances, those risks. It would have been my last opportunity if I hadn't succeeded. I was mentally prepared."
The gifted seem to prefer the tougher road. What didn't work out in the middle order, where it's arguably easier to bat, worked wonders at the top. Rohit responded with 176 and 127 against SA in Visakhapatnam and hasn't looked back.
His skewed home and away averages now look considerably better as opener: 75.08 at home to 43.15 away. Since that Vizag Test in Oct 2019, he averages the best among all openers worldwide at 58.48, ahead of Pakistan's Abid Ali (43.66).
Interestingly, of his 8 Test hundreds (5 of them have now come as opener), 7 have resulted in India wins. "I trusted whatever I was doing," Rohit said.