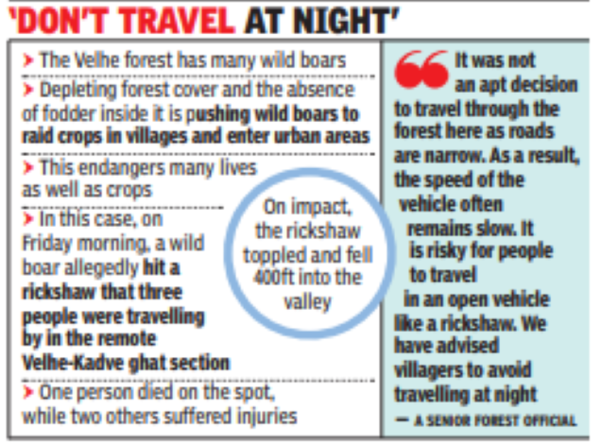 PUNE: A 60-year-old man was killed and two others were seriously injured after a wild boar rammed the autorickshaw they were travelling in. The incident took place in the early hours of Friday near the Panshet dam, about 70km from the city.
The deceased has been identified as Bhaguji Margale, a resident of Nasrapur. The injured men – Suresh Kondiba Debe of Pole village and Ashok Margale of Shirkoli village – have been admitted to the Sassoon General hospital, and their condition is now stable.
The Velhe police said the incident occurred in the Velhe-Kadve ghat section around 3am when the three people were heading to a temple in Varghad village. The ghat section is one of the most remote zones in the tehsil.
"The injured persons have told us that a wild boar hit the vehicle while it was crossing the road. The impact caused the autorickshaw to fall 400ft into the valley. Margale died on the spot due to a multiple injuries," inspector Manoj Pawar of the Velhe police station said.
The incident came to light when volunteers of the Sinhagad Mavala Jawan Sanghantna informed the police.
Forest department officials, the rural police and a team of volunteers rushed to the spot. They shifted the deceased and injured persons to a nearby hospital before admitting them to Sassoon.
"A team of volunteers worked hard to rescue the injured men and recover the deceased man's body. Tanaji Bhosale, one of the members, led the team and fetched them from the dense forest. It was a tough task for the team to lift the injured persons from the valley, with steep climbing through the shrubs at night," added Pawar.
Since the accident took place due to wildlife, the forest official added that they would send a proposal to the state government seeking compensation for the deceased person.
"This was the first reported attack of wild boar in the forest of Velhe tehsil in the last five years," a forest official said. "There were a couple of instances of attacks on farmers who attempted to shoo away boars from their farms. Farmers have told us that often, if there are piglets in the pack, mother boars charge at passing vehicles, causing accidents."
In the past, exasperated farmers would use many illegal methods to scare wild boars, often endangering lives of human beings.
"However, after consistent awareness drives and intensive patrolling, we could stop such practices here. As a result, we didn't report any deaths of wild boars in the last few years. But such fatal accidents may prompt farmers to resort to illegal methods to kill animals for their own safety. Some may even lay electric traps to kill the animals. We will again focus on raising awareness to prevent such incidents," the official added.