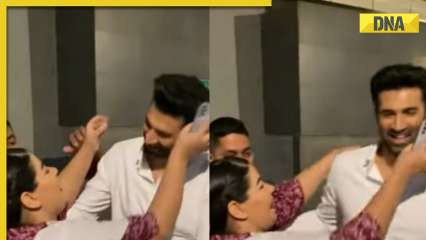 Aditya Roy Kapur has been earning rave reviews for his sincere and dedicated performance in the recently released spy thriller OTT series The Night Manager in which he plays Shaan Sengupta, the night manager at a luxurious hotel who is recruited by the Indian intelligence to infiltrate the gang of dreaded arms dealer Shailendra Rungta, played by Anil Kapoor.

Before The Night Manager started streaming on Disney+ Hotstar on February 17, the team held a special screening in Mumbai. Aditya was mobbed by his female fans at the event and the actor was caught in an embarrassing situation when one of them forcefully tried to kiss him. He politely refused her in the video which went viral on social media.
Now, in a recent interview with the indianexpress.in, Aditya Roy Kapur has spoken about the incident as he stated, "To be honest, I didn't get too frazzled by it. It was just something I had to handle in the moment. She was strong, let's put it like that, so I did have to handle it. But I can understand it. I don't look at it from the eye where I'll criticise it or say it's wrong. I can understand it, that this person is feeling this affection and I guess that's how she wanted to express it. At that moment I just felt it needed to be handled. But I didn't lose any sleep over it or give it more (thought) than it needed."
Aditya's debut OTT show The Night Manager is officially adapted from the popular 2016 BBC series of the same name, which in itself is based on John le Carré's 1993 novel with the same title. In the original show, Tom Hiddleston played Jonathan Pine, the night manager and Hugh Laurie essayed the arms dealer Richard Onslow Roper.
READ | Shahid Kapoor in Farzi, Aditya Roy Kapur in The Night Manager, Bollywood heroes making their debut in OTT series