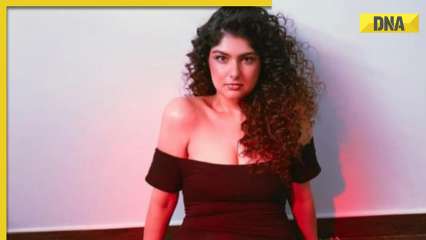 Arjun Kapoor's sister Anshula Kapoor recently walked the ramp at Lakme Fashion Week for the first time and now she shared a stunning picture on social media in a body suit and penned down a heartfelt note talking about body positivity. Her sister Janhvi Kapoor and Rhea Kapoor came out to support her.

On Thursday, Anshula Kapoor shared a couple of photos in a black body suit and wrote, "Over the years, I've endlessly told myself that bodysuits aren't flattering for my body shape. I've stopped myself from wearing them more times than I can count. But I had a realization earlier this year. There's a lot of hidden joy in being able to try everything I never let myself explore before, at least once. I want to experience that thrill."



Anshula added, "Am I owning it? Who cares!! Am I having fun? Oh, 100% yes! Still learning and trying not to let my stretch marks, cellulite, tummy rolls, etc get the best of me & my insecurities. This is me just letting my curls loose, having the best time with the team I trust most, and loving every minute of it." Along with pictures, she also posted a quote that read, "Imagine all the things we could be if we weren't controlled by insecurity."

Janhvi Kapoor commented some fire emojis on her post and Rhea Kapoor commented, "We want the close-ups" to which Anshula replied, "Yes! Posting soonest."
After setting some weight loss goals, earlier she posted a picture of her at the gym and talked about how the term 'healthy' has changed for her and wrote, "For me, today, being "healthy" means so much more than what I look like in the mirror. One of my first steps to becoming a healthier me was to acknowledge that mentally I wasn't in the best place and that I had to address what was eating me from the inside before I could even begin working on anything else. This was the most uncomfortable part. And the most difficult part too. It took so much therapy. So many tears. So much uncertainty. Fear. Setbacks. Discomfort. Self-doubt. Then came self-realization. Thus began the healing.

It's been a 2-year long journey, and I'm still a work in progress. It's taken me almost as long to realize that my self-worth isn't tied to the shape of my body and that constantly belittling or criticizing my imperfections & flaws isn't doing me any good regardless of whether that flaw is emotional or physical. I'm still learning to love the perfectly imperfect me that I'm discovering and leaning into because life is too short to live it thinking you're unworthy or unlovable. I am flawed and still worthy."
Read Pradeep Sarkar dies: Ajay Devgn, Manoj Bajpayee, other Bollywood celebs remember 'dada'; funeral to be held later today