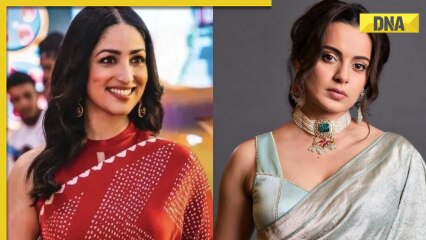 Yami Gautam is one of the rare Bollywood actors still active on Twitter. In a day and age where many actors have left the platform, Yami routinely engages with fans on the microblogging site. But it's not just fans that Yami often engages with on the site. She also has a good rapport with Bollywood colleague Kangana Ranaut, despite the fact that the two have never worked together

In a chat with DNA, Yami opens up about how this bond between her and Kangana began from the latter's tweet wishing her on her wedding a few years ago. "I think it comes from the fact that we hail from the same state and of course, she is a fantastic actress. She is one of the best we have. For me, the first way of admiration will always be work whether it is Kangana or Vidya or so many other actresses. And then the fact that she wished me on my wedding," shares Yami.

The actress recalls that the two have never met in an informal setting but came quite close to it recently. She says, "We were shooting for Chor in Manali. It was a two-day shoot and my mom was with me. Very sweetly she messaged me to visit her home but we couldn't because of erratic shoot hours."
The actress says that reciporacting Kangana's warmth towards her comes naturally to her. "It's just mutual respect and I feel anyone who treats you with respect and love must be embraced back. Looking forward to her next film and next work because her work speaks for itself," says Yami.

Yami was most recently seen in Lost, a thriller that streamed on Zee5 earlier this week. The actress received praise for her portrayal of an investigative journalist in the film. She will be next seen in Netflix's thriller comedy Chor Nikal Ke Bhaaga, which also stars Sunny Kaushal.