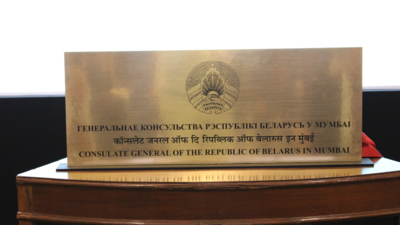 The Republic of Belarus inaugurated its Consulate General at Bajaj Bhawan in Nariman Point on August 4.
MUMBAI: The Republic of Belarus inaugurated its Consulate General at Bajaj Bhawan in Nariman Point on August 4.
The first deputy minister of foreign affairs of Belarus, Sergei Aleinik, who was in India on an official visit, and secretary, food and civil supplies in the government of Maharashtra, Vijay Waghmare, attended the event.
Aleinik said, "Despite significant geographical distance, Belarus considers development of a full scale cooperation with India among the priority areas of its foreign policy."
A press release issued by Consul Anton Pashkov said, "The Consulate is considered to be a bridge connecting the Belarusian companies, business circles and people with its main financial centre Mumbai. In return it will be a reliable source of information about Belarus, its trade, economic, investment, education, scientific and tourism capacities. Also, it will facilitate the establishment of interregional ties between Maharashtra and the Belarusian regions that will promote people to people contacts, trade, educational, investment cooperation and touristic exchanges."
Pashkov said the two countries are long standing partners. "This year is very special for Belarusian-Indian relations because in 2022 the two friendly countries celebrate the 30th anniversary of establishing of diplomatic relations."
"Belarus and India have regular high-level political dialogue. The President of Belarus visited India three times with state visits and met with the Prime Minister of India several times on the sidelines of various international events," the press note said.
Pashkov said that every year the number of Indian students receiving higher education in Belarus is increasing. In the current academic year, about 1,000 Indian students are studying there, mainly in the field of medicine.
An effective mechanism for coordinating bilateral relations is the Belarusian-Indian Intergovernmental Commission for Cooperation in the Field of Economy, Trade, Industry, Science, Technology and Culture. This year the countries are planning to hold its 11th session.
FOLLOW US ON SOCIAL MEDIA
FacebookTwitterInstagramKOO APPYOUTUBE