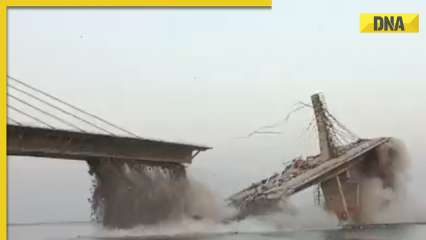 Bihar: Under construction bridge collapses in Bhagalpur, video surfaces (Photo: ANI)
Bihar news: An under-construction bridge in Bihar's Bhagalpur collapsed on Sunday evening. The incident took place at around 6 pm. No casualties have been reported till now after the Aguwani-Sultanganj bridge collapsed in the Ganga River. Locals present there captured the incident on their mobile phones. The video has now gone viral on social media. 

"The incident of under-construction bridge collapse happened at around 6 pm. No casualties reported till now. Local administration on the spot, we have asked for a report from 'Pul Nirman Nigam'," DDC Bhagalpur Kumar Anurag told to ANI. Check out the video here:
WATCH | Under construction Aguwani-Sultanganj bridge in Bihar's Bhagalpur collapses. The moment when bridge collapsed was caught on video by locals. This is the second time the bridge has collapsed. Further details awaited.

(Source: Video shot by locals) pic.twitter.com/a44D2RVQQO


— ANI (@ANI) June 4, 2023
Bihar CM Nitish Kumar has ordered a probe into the incident and has asked to identify those responsible for it. A similar incident of bridge collapse happened last year as well. A portion of a bridge that was built across the Burhi Gandak River in Sahebpur Kamal of Bihar's Begusarai district collapsed and fell into the river, but no casualty was reported.

READ | DNA Explainer: What is electronic interlocking system, 'root cause' behind the Odisha train tragedy?