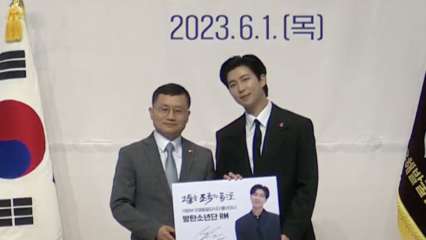 On June 1, BTS' popular rapper RM has been officially appointed as the public relations ambassador for the Ministry of National Defense in South Korea, ahead of his expected military service. The official photos from the appointment ceremony have been resurfaced online and it went viral instantly. RM will be representing the ministry's special organisation, Killed in Action Recovery & Identification (MAKRI). 

For the ceremony, donned a black suit and he looked dapper in it. BTS' representative shared the news with the fans, and it left them enthralled for RM's new journey. During the ceremony, RM delivered a speech. As per translation by Twitter user @Nousseiba09, the BTS member said, "Hello, I am RM of BTS. Firstly, it is truly an honour to be in the presence of such estimable guests at the Ministry of Defense's Excavation Team and become the Ambassador of Promotion. This is the 10yr anniversary of BTS's debut. In the past 10yrs, we have shared a variety of messages through different songs and campaigns. However, we thought at great length about what ways we could return the love given to us by our fans and by the citizens of Korea." 
Here's the post
RM (@BTS_twt) has been appointed as the Public Relations Ambassador for South Korea's Ministry of National Defense Agency for 'KIA Recovery & Identification' pic.twitter.com/FRyPDQcQNI


— BTS Charts & Translations (@charts_k) June 1, 2023
As soon as the news and the photos from the ceremony surfaced, It left the ARMY enthralled. An internet user wrote, "PROUD OF KIM NAMJOON. RM PUBLIC RELATIONS  AMBASSADOR. AMBASSADOR RM. #ProudAmbassadorRM! I'm really proud of you Namjoon! You are amazing!" Another internet user wrote, "I'M SO PROUD OF YOU NAMJOON."  A third internet user wrote, "We Are So Proud Of You Joonie…We Always Love You And Purple You." One of the netizens wrote, "Proud of you, Namjoon. Thank you for your hard work and doing everything you can for your country." 

RM will represent the organisation, Killed in Action Recovery & Identification which looks after the remains of war heroes from the Korean War to return to their respective families. RM will promote the organisation and its work.