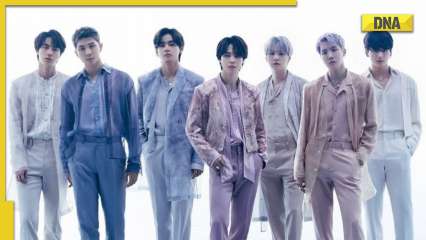 After reports of BTS going on a hiatus circulated, team leader RM Namjoon reacted to it. He said that the announcement was about the band members working on their solo projects alongside group ones, however, it was misinterpreted.

RM wrote, "It is not like we were hoping they (media persons) would watch our show… till the end to write their opinions… Only the screenshots of me crying became viral… I wonder if I shouldn't have been brave enough to share…"

RM Namjoon's Weverse  pic.twitter.com/qfXn5UYgUQ
— (@jjimvely) June 15, 2022
Earlier on Tuesday, all seven members V, Jin, Jungkook, RM, Jimin, Suga, and J-hope gathered for a fun dinner after celebrating BTS' 9th anniversary. While talking to each other, one of the band members said that the group is going on 'hiatus'. However, the word hiatus was mistranslated from Korean to English, therefore this confusion got created. Some of the fans expressed their feelings on social media. They were really sad after this news went viral.

Read: BTS' Yet To Come gets most views from Japan, India on YouTube

Later entertainment company Hybe clarified, "To be clear, [BTS] are not on hiatus but will take time to explore some solo projects at this time and remain active in different formats."

For the unversed, a pre-recorded dinner event was premiered on YouTube in which the band members talked about their future plans. The dinner was planned at BTS' old house where the members stayed together before they started living alone. While talking about the memories, Suga said, "7 boys living together isn't easy." V aka Kim Taehyung mentioned that they grew closer when they started living alone.
However, the moment turned emotional when Yoongi said that the members should now talk about their hiatus. RM, the team leader said, "I feel lost. After releasing Butter and Permission to Dance, I started feeling that I don't know what kind of a band we are anymore. What kind of music do we want to make? What do we want to say? I believe we should have taken this break long ago, but we kept putting it off."

Min Yoongi mentioned, "Writing lyrics is the hardest. What message do we want to give? Nothing comes out anymore."

"This is also a new direction for us as a company, the attitude towards solo projects has changed," he said. All members will now be releasing music individually since the band is on break. Jungkook said, "I promise we will return some day, more mature than now. Till then, we ask for your blessing."
RM stated, "This new chapter of BTS, that is yet to come, will be the best, I hope."