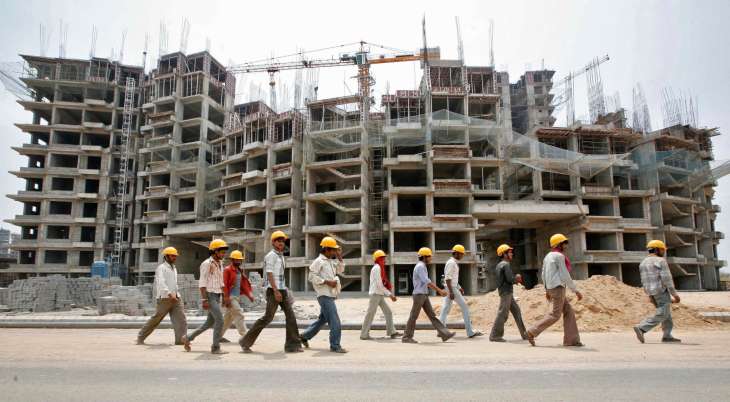 Budget 2023: Finance Minister just announced a 66% upsurge in the Pradhan Mantri Aawas Yojana (PMAY) outlay to Rs 79,000 crore in her Budget 2023 speecgh. This might broaden the economic advantages of affordable housing programs to even more home buyers, growing end-user demand. 
Whereas incentives have indeed been offered to enhance the affordable housing portion, there needs to be a reduction in the price of land, development premium costs, and tax deductions, in addition to standard operating procedures such as lower intra-rate financing, to incentivize developers to construct budget housing units. Because the high cost of land is another major constraint that the sector faces, measures government has taken to reveal the significance of land parcels held by federal agencies / PSUs via partnership agreements with affordable housing developers can be substantial.
Such proposals can also assist the government in increasing its revenue generation capacity. The government should also increase funding for the Pradhan Mantri Awas Yojana (PMAY), which will aid in the achievement of the 'Housing for All' goal. We expect the government to address the long-standing demand for industry status and single-window clearance for projects.
ALSO READ: Budget 2023: Govt increases income tax rebate to Rs 7 lakh per annum | 5 major announcements
Here's what experts and industry insiders think about this year's Budget.
According to Atul Goel, Director, Goel Ganga Group, "The Indian real estate was looking forward to the upcoming budget, as a slew of policy overhauls and regulatory impetus were expected. In this regard, nothing has been announced and this is a little disappointing. However, the silver line is the government's push toward urban development and infrastructure growth through increased capital investments. The overall Capex for the given fiscal has been increased to Rs 10 lakh crore, close to 3.3% of the total GDP. This will give a huge push to physical infrastructures such as highways & roadways, railway corridors, urban corridors, industrial clusters, aviation, etc. 
This can have a multiplier effect on the overall economy, job creation, expansion in the entrepreneurial ecosystems, and a general surge in income levels. The positive ramification of such a gigantic shift won't just be restricted to housing but also commercial, warehouse, retail and other categories of Indian real estate. The government has also increased the allocation for PM Awas Yojna, which is a laudable step."
Gurmit Singh Arora, National President, Indian Plumbing Association,further added "GOI's commitment to continuing top-class urban and rural infrastructure development in the form of higher capital investments and dedicated urban infrastructure funds also entails windfall for Indian plumbing and other related industries. The total capital expenditure will be INR 13.7 lakh Crores forming 4.5% of the overall GDP. This will translate into increased investment inflow into roadways, construction, water supplies, urban growth, logistics, etc. This in turn will drive demand for plumbing, pipelines, fittings, etc. 
Meanwhile, GOI has also announced to increase in the outlay towards PM Awas Yojna to INR 79,000 Crores. The thrust towards affordable housing projects will also unlock new opportunities for the plumbing businesses in India."
According to Nakul Mathur, MD, Avanta India, "In the union budget, GOI has once reiterated its commitment to infrastructure development, urban growth, and the housing for all program. The effective capital expenditure will be Rs 13.7 lakh crore, forming 4.5% of the GDP. Likewise, the outlay for PM Aawas Yojna has been increased by 66% to Rs 79,000 crore. The thrust towards infrastructure development in the form of roadways, power, healthcare, railway corridors, water supplies, affordable housing programs, etc. will drive economic growth. This in turn will push demand for housing, urban communities, construction activities, office spaces, etc."
ALSO READ: Union Budget: 10 big takeaways which will make aam aadmi's lives easier
Subhash Goel, Managing Director of Goel Ganga Developments also added that "The Budget session is the extension of GOI's overall commitment towards infrastructure growth, spurred urbanization, and affordable housing projects. This will be beneficial to the real estate industry, as it will set the tone for increased growth and demand. The government has allocated INR 10,000 Crore in infrastructure funds that will be managed by National Housing Board (NHB). The fund will boost infrastructure in Tier 2 and 3 cities and drive housing demand. 
The overall capital expenditure has been raised to Rs 10 lakh crore, almost three times than in 2019. Capital expenditure is an important cog in the wheel of economic prosperity and growth. This will also create more jobs and real estate demand. The government has also increased fund allocation for PM Awas Yojna, which will help in the mission towards providing housing for all in India."
"The union budget so far has not announced any real estate-specific policy, which is a little disappointing for the Industry players. However, the industry will welcome the government's continued policy of supporting infrastructure growth. 10,000 Crore has been allocated for infrastructure funds which will also offer an institutional framework for development in Tier 2 and 3 cities. This will drive real estate growth. Meanwhile, the capital expenditure has been increased to Rs 10 lakh crore which will link infrastructure growth, economic prosperity, and real estate demand. It is noteworthy that infrastructure development is the cornerstone of a healthy real estate industry.  The outlay for PM Awas Yojna has been increased by 66% to Rs 79,000 crores, which is another very prudent announcement", said Siddharth Maurya, Resource Specialist, Expertise Real-Estate and Fund Management.
ALSO READ: Union Budget 2023: Modi govt's plan for 'Make AI in India' and 'Make AI Work in India'