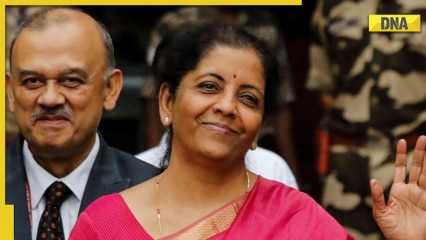 Budget 2023: Netizens spark meme fest on Twitter on income tax slabs, cigarettes, middle class
Finance Minister Nirmala Sitharaman delivered the Union Budget 2023–24 to Parliament today. Everyone in the nation was excited to find out what the budget had in store for them. Many people have responded to the government's announcement of its fiscal year 2019 plans with humorous memes and one-liners.

Here, we've chosen a few of Budget 2023's most hilarious memes.

Middle Class People Listening To Every Line Of #Budget2023 .. Waiting For Income Tax. pic.twitter.com/Vw5MgKg4wt
— BHUBANANANDA NAYAK  (@bhubana_nanda) February 1, 2023
Smokers in every budget:#Budget2023 pic.twitter.com/QYKZjUBCvt
— Prayag (@theprayagtiwari) February 1, 2023
NS announced taxes on cigarettes & alcohol hiked by 16% in #Budget2023 #BudgetSession #Budget2023WithETNOW #BudgetWithNDTV #BudgetwithForbesIndia pic.twitter.com/ZuCRFl4Aid
— Nograj D (@Office48423771) February 1, 2023
*Budget 2023 exists*

Me to my commerce friend #Budget2023 pic.twitter.com/Sa05iYPbnC
— Vivek Gautam (@Imvivek04) February 1, 2023
Top memes about budget 2023 , hope you people gonna like it. #incometax #Budget #budget2023 #FinanceMinister #ciggarettes pic.twitter.com/ZetC4UkIqQ
— Sachin Viratian(@asmylemalhotra1) February 1, 2023
koi na koi chahiye, budget explain karne wala 


— Tinder India (@Tinder_India) February 1, 2023
Rich farmers watching the Budget every year #BudgetSession pic.twitter.com/Lf3kIFylrf
— Gabbar (@GabbbarSingh) February 1, 2023
Rebate for middle class No income tax till 7 lakhs income :

*Middle class people be like :#Budget2023 pic.twitter.com/aeTFEsiJji
— Raju Karn (@Depressed_Er) February 1, 2023
#cigarettes price hike

All smokers right now pic.twitter.com/N3VuVPZ01P
— Shubham Jain (@Shubham09273730) February 1, 2023
Here's our explanation of #Budget2023 pic.twitter.com/OZDZac4oB0
— Spotify India (@spotifyindia) February 1, 2023
Jitne #cigarettes ke rate badh rhe

Gold Flake ka ek ek drag sunar ki dukan pr milega pic.twitter.com/7SKcfUjfpF


— Sarcaster  (@sarcaster_) February 1, 2023
Rich farmers watching the Budget every year #BudgetSession pic.twitter.com/Lf3kIFylrf
— Gabbar (@GabbbarSingh) February 1, 2023