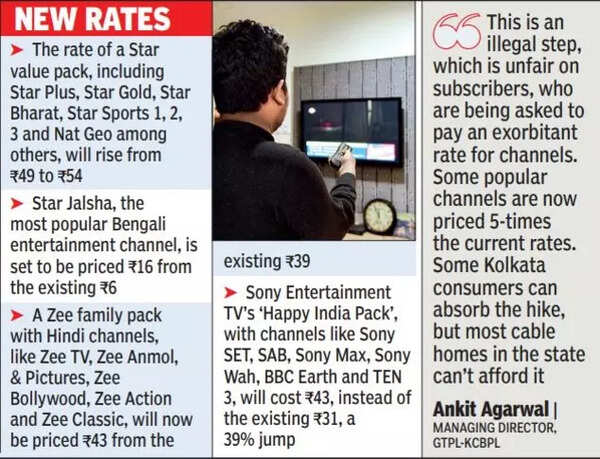 KOLKATA: Around 15 lakh homes in Kolkata missed their favourite serials on Star Jalsha, Zee Bangla and Colours Bangla on Saturday evening, while sports buffs missed the ongoing India-Australia Test match on Start Sports as major broadcasters switched off their channels after most multi-system operators (MSO)s refused to accept the rise in pay channel prices.
MSOs, such as GTPL-KCBPL, Hathway, DEN and Fastway, which operate in almost half of Kolkata neighbourhoods, faced a blackout of all major channels, including the most popular ones on Star, Zee and Sony platforms.
The blackout took place not only in the city but also in districts, including Howrah, Hoogly and South and North 24 Parganas. According to cable industry sources, 41 lakh homes across Bengal had their channels switched off on Saturday.
Some MSOs expect the channels to be back and an agreement between them and broadcasters to emerge within the next two-three days.
Cable operators, who were flooded with calls from subscribers, as well as MSOs claimed the switch-off was illegal on the part of broadcasters as there was a court stay on the price rise that had been opposed by them till February 20. "This is an illegal step, which is unfair on subscribers, who are being asked to pay an exorbitant rate for channels. Some popular channels, like Star Jalsha Movies and Zee Bangla Cinema, are now priced five times the existing rates. While a section of Kolkata consumers can absorb the hike, majority of cable homes across the state will not be able to afford the new prices," said GTPL-KCBPL managing director Ankit Agarwal.
At least five cable operators in Kolkata have moved court opposing the price rise, which, they claim was wrongly timed and will affect the cable industry adversely. A section of MSOs have moved the Kerala High Court that has issued a stay on the hike till February 20 which, MSOs apprehended, could be violated by broadcasters.
MSOs who have opposed the hike and refused to accept the TRAI-approved new tariff, said they had demanded a "reasonable hike". "A hike of 8%-10% is acceptable but not a five-time rise. Several popular channels have been priced absurdly high and it will erode our subscriber base. We have seen a migration to OTT and the new tariff may deal the final blow to the cable industry," said Mrinal Chatterjee, a veteran in the cable trade.
In 2018, there had been a sharp price hike that led to a significant rise in cable TV subscription rates across the board. "With OTT subscription having risen manifold amid the pandemic, a price rise could now lead to mass migration that will deal a crippling blow to the cable TV trade," said the convenor of a cable operators' body.
A Star value pack that includes channels like Star Plus, Star Gold, Star Bharat, Star Sports 1, 2, 3 and Nat Geo and now costs Rs 49 will be priced Rs 54. Star Jalsha, arguably the most popular Bengali entertainment channel, is set to be priced Rs 16, much higher than the existing Rs 6.