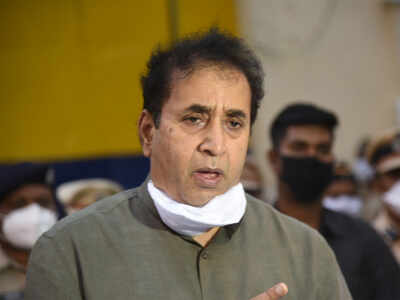 NEW DELHI: The CBI has filed an FIR against former Maharashtra home minister Anil Deshmukh in connection with the corruption and extortion-related allegations levelled against him by former Mumbai police commissioner Param Bir Singh.
Significantly, the FIR focuses on the controversial reinstatement of Assistant Police Inspector Sachin Vaze of Antilia notoriety, saying that twin decisons to rehabilitate the "encounter" specialist and the subdsequent decison to task him with important cases were "in the knowledge" of Deshmukh: something which immediately sparked speculation that those who directly took the calls could also be in agency's crosshairs.
The FIR was filed on April 21 (Wednesday) under section 7 of the Prevention of Corruption Act and section 120B (criminal conspiracy) of the IPC and names Deshmukh as an accused. Deshmukh is likely to be extensively grilled in the coming days, a source said.
The agency conducted massive searches at multiple locations across Maharashtra through Saturday. CBI teams also searched the premises of Deshmukh in Nagpur and Mumbai in morning and evening. The agency is learnt to have seized electronic gadgets and incriminating documents after the searches. The CBI said that all agency officers, part of the raids, wore PPE kits while following all Covid protocols. Searches over for today.
The searches were conducted simultaneously at four locations from 7.30am onwards. Three of Deshmukh's premises, including his office, were searched, a source said.
Sources say the CBI has been able to collect some prima facie technical evidence on basis of which the allegations apparently seem to be prima facie corroborating. "The facts which emerged during the preliminary enquiry (PE) need a thorough probe for which an FIR is required," said an official. The CBI's FIR comes after the agency conducting and exhaustive preliminary enquiry for two weeks on the orders of the Bombay high court. On April 14, the CBI had grilled Deshmukh for eight hours in connection after quizzing multiple people in the case.
The FIR, a copy of which is with TOI, states that the PE had prima facie revealed that a cognizable offence was made out in the matter wherein Deshmukh and others have attempted to obtain undue advantage for improper and dishonest performance of the public duty.
The PE has revealed that API Sachin Waze was reinstated in the service after being out of service for 15 years and entrusted with most of the sensational and important cases of Mumbai police with Deshmukh being in knowledge of this fact.
The FIR also mentions part of Param Bir Singh's 104-page-long complaint alleging that Deshmukh and others exercised undue influence over transfer postings of police personnel "thereby exercising undue influence over their performance".
FacebookTwitterLinkedinEMail