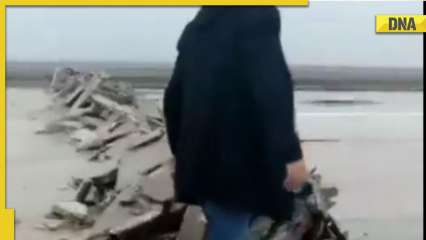 Turkey and Syria were hit by three powerful earthquakes today (February 6) causing massive damage to the infrastructure and killing over 2,300 people. Many videos of builds collapsing have been circulating on social media platforms. 

Various videos are showing the destruction caused by these massive earthquakes. Among many, one video of the runway of Hatay Airport, in Turkey has also come to light. The video shows that the runway has slipt up in two parts due to the quakes. 

WATCH: The only runway at Hatay Airport in southern Turkey tore open during the earthquake pic.twitter.com/TTykRNBYUQ
— BNO News Live (@BNODesk) February 6, 2023
Flights have been stopped and only planes carrying rescue aid are allowed to land and take off from the airport. 10 Turkish provinces and northern Syria were hit by the earthquakes. It is believed that the earthquake is the strongest to hit Turkey in recorded history. 
Read: Turkey, Syria earthquake update: Death toll rises to 2,300, third quake hits Turkey in less than 24 hours