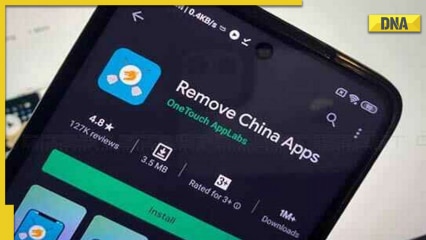 Chinese app ban: Centre moves to ban 138 betting apps, 98 loan lending apps with China connection
In a major move against Chinese mobile applications and the Indian government's crackdown against them, the Centre has revealed its plans of imposing another heavy ban on such apps, including several betting apps and loan lending apps.

The Ministry of Electronics and Information Technology has announced that the central government has initiated the process of banning as many as 138 betting apps and 98 loan lending apps in India due to their links in China.

This comes after the Indian government has already announced a ban on hundreds of Chinese applications in the past in an effort to maintain the safety of the data of its citizens, and growing security concerns over the years.

The IT Ministry further said that they have decided to initiate the process of banning these Chinese apps on an "urgent" and "emergency" basis after a communication delivered by the Ministry of Home Affairs.

According to the reports, the Union IT Ministry has decided to ban the apps with Chinese links because these applications attract Section 69 of the IT Act as they contain "material which is prejudicial to sovereignty and integrity of India".
It must be noted that betting and gambling are illegal in most of the parts of India and the advertising of these applications is being deemed as a violation under the provisions of the Consumer Protection Act 2019, Cable TV Network Regulation Act 1995 and the IT Rules, 2021.

Last year, the Union Home Ministry opened an investigation against 28 loan lending apps with Chinese links, and it was later discovered that 98 such apps are available for download in India through e-stores and third-party links.
Over the last few years, the Indian government has banned as many as 250 Chinese applications in the country, citing several security and safety reasons. The Centre had said that the apps were banned as they were considered to be "prejudicial to the sovereignty and integrity of India, defence of India, security of the state and public order".

READ | Fresh government ban on 54 Chinese apps posing threat to national security – Check full list