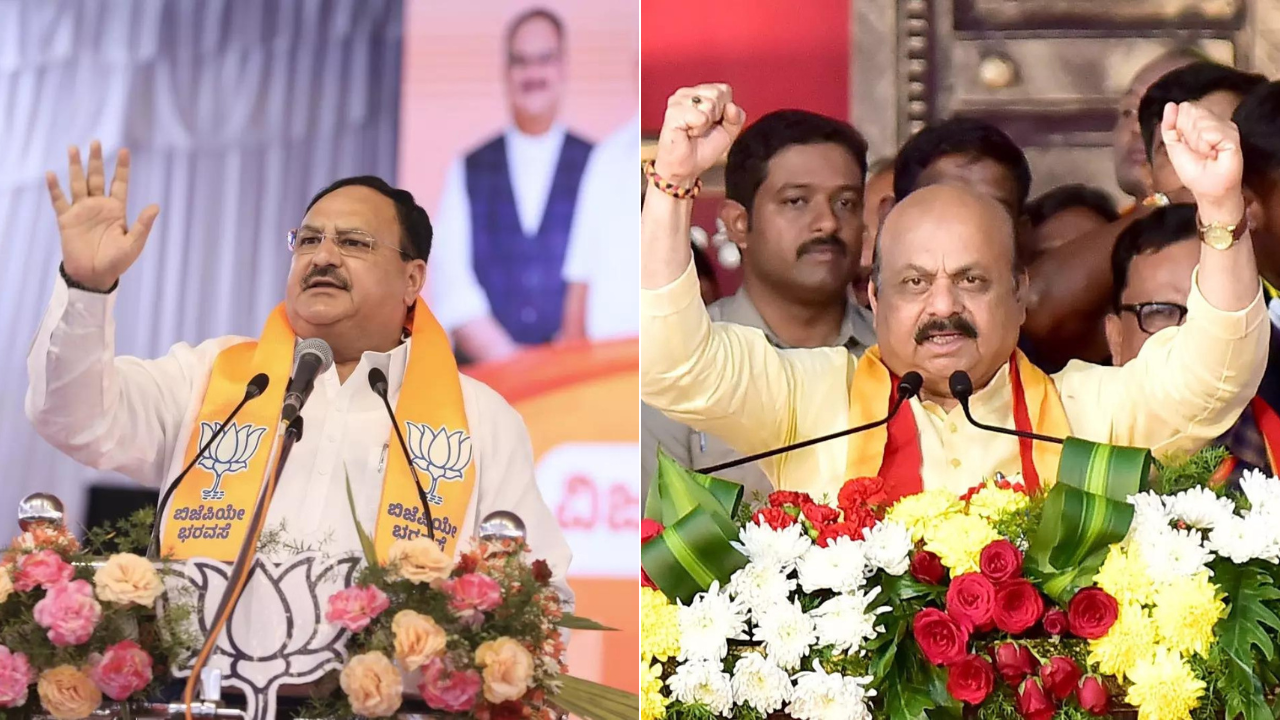 BENGALURU: The Congress in Karnataka filed a complaint with the police against Bharatiya Janata Party (BJP)'s national president JP Nadda, the state's chief minister Basavaraj Bommai and MLA Ramesh Jarkiholi accusing them of attempting to bribe voters ahead of the upcoming assembly elections in the state.
State Congress president DK Shivakumar and legislature party leader Siddaramaiah, who have signed the complaint, have asked the police to register a case and conduct a probe.
The complaint comes following an alleged announcement of Rs 6,000 per vote in the assembly elections due in May, by Gokak BJP MLA Jarkiholi.
Jarkiholi, who was forced to resign as minister in 2021 following his alleged involvement in a sex scandal, allegedly said in a recent rally in Belagavi that if an incumbent Congress MLA there gives gifts and cash up to Rs 3,000, he shall give Rs 6,000 to each voter.
The state unit of BJP, however, has distanced itself from the MLA's statement.
"On January 22, 2023, a senior leader of the BJP, former Cabinet Minister and a BJP MLA, Ramesh Jarkiholi announced in Belagavi, Karnataka that the BJP would pay Rs 6,000 per vote to every voter in the ensuing Karnataka assembly elections. The incident was caught on camera," the complaint said.
A copy of the video footage was attached with the complaint as evidence, it said, "Ramesh Jarkiholi, on the video, can be clearly shown and heard offering cash Rs 6,000 per vote to every voter soliciting votes in the ensuing elections on behalf of the BJP."
The complaint was lodged by Shivakumar, and Siddaramaiah along with other party leaders at the High Grounds Police Station here.
The Congress has alleged that this is part of a concerted conspiracy hatched at the highest levels in the BJP with the tacit approval of the CM and Legislature Party leader of the BJP Bommai, Nadda and party's state chief Nalin Kumar Kateel.
"Obviously, there is a group of BJP leaders behind this concerted design to bribe voters. This is a blatant and brazen attempt to hijack democracy and are obvious criminal offences under sections 171B, read with 107, 120B, 506 of the Indian Penal Code 1860. It is also a bribe offering to the voters as per the provisions of section 123(1) of the Representation of Peoples Act, 1951," it said.
Noting that there are about five crores voters in Karnataka, the Congress alleged that the BJP leaders are hatching a conspiracy to woo the voters by distributing Rs 30,000 crore for winning the elections. This shows that BJP leaders have ill-gotten money to the tune of over Rs 30,000 crores to bribe the voters and to hijack the elections.
"There are a whole group of individuals involved in this conspiracy and it will become apparent on the arrest and interrogation of the above said four persons and confiscation of their cell-phones, computers and other digital devices," the complaint alleged.
It further stated that this is also a fit and appropriate case where a full investigation by the Income Tax Department and the Enforcement Directorate should initiate proceedings against the BJP's central and state leaders, the CM of Karnataka and his Cabinet colleagues, and Jarkiholi to "unearth source ill-gotten money of Rs 30,000 crores likely to be distributed to the voters of Karnataka".
(With inputs from PTI)