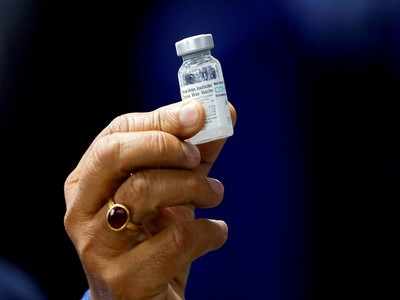 HYDERABAD: Indigenous Covid-19 vaccine Covaxin will be priced at Rs 600 per dose for state governments and Rs 1,200 per dose for private hospitals, its developer Bharat Biotech announced late on Saturday night.
However, it stated that it would continue to supply Covaxin for India's vaccine rollout at Rs 150 per dose, which is distributed for free by the government of India. It also said over 50% of its Covaxin capacities have been reserved for the central government supplies.
The pricing of Covaxin in the exports markets has been pegged in the range of $15-20 per dose (Rs 1125-1500 per dose), it said.
This makes the desi vaccine more expensive for state governments and private hospitals than the AstraZeneca-Oxford vaccine Covishield that has been priced by Serum Institute of India at Rs 400 per dose for the central and state governments and Rs 600 per dose for private hospitals.
Bharat Biotech's pricing announcement came ahead of the opening up of vaccination to everyone above the age of 18 years from May 1 in the private set-up as part of the central government's recently unveiled liberalised and accelerated Phase 3 vaccination plan.
Tweeting its pricing strategy late on Saturday night, Bharat Biotech said: "Covaxin is an inactivated and highly purified vaccine, making manufacturing expensive due to very low process yields. All costs towards product development, manufacturing facilities and clinical trials were deployed primarily using internal funding and resources of Bharat Biotech."
"Recovering costs is essential in the journey of innovation towards other vaccines such as intranasal Covid-19, Chikunguniya, Zika, Cholera and others. Our core mission for the last 25 years has been to provide affordable, yet world-class healthcare solutions for the globe," it said.
At the All India Management Association's 6th National Leadership Conclave earlier this week, Bharat Biotech chairman and managing director Dr Krishna Ella had hinted as much when he said that he would like to get the maximum price for Covaxin in the private market to recover all costs, including the Rs 350 crore spent on clinical trials in order to have money to work on vaccines for various infectious diseases.
FacebookTwitterLinkedinEMail