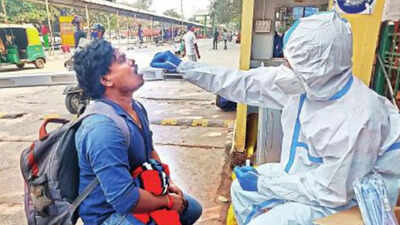 Data from the past 15 days shows Bengaluru reported a daily average of 8,800 new cases
BENGALURU: The third wave is likely to peak next week — by January 25 — in Bengaluru, with daily fresh infections touching 35,000 cases, BBMP officials told chief minister Basavaraj Bommai during a Covid-19 review meeting on Monday.
Bengaluru reported 25,595 new cases on Tuesday, taking active cases in the city to nearly 1. 8 lakh. BBMP's projection on the peak is based on the week-on-week increase, which is around 250%.
While BBMP has not specified the dominant variant in circulation, sources suggest it is Omicron, given that a majority of infected people are reporting high fever, congestion, body pain and cough for a short duration.
Two independent data trackers told TOI: "It looks like almost every other household will have at least one positive case during the third wave. It won't be a surprise if the daily count crosses 35k. If we factor in those conducting Covid self-tests at home without coming under the BBMP radar, the daily count will be a lot higher. " Bengaluru reported 810 positive cases on January 1 and the number rose to 6,812 on January 7 before touching 22,224 on January 15.
Data from the past 15 days shows Bengaluru reported a daily average of 8,800 new cases.
Documents show BBMP South zone reported 19,500 cases in the past week followed by East zone with 18. 7K cases. Dasarahalli reported the least – only 3,380 cases. The surge is being attributed to community spread and increase in commute to work.
"An increase in commute between home and work will trigger a corresponding rise in cases," said Dr AS Balasundar, chief health officer, BBMP. "Most people testin g positive are those using public transport like buses, Metro, autorickshaws and taxis. " Dr KV Thrilok Chandra, special commissioner, health, BBMP, said increased testing has helped identify cases quickly.
"We are keeping a close eye on micro containment zones. We have ramped up testing and this has helped early identification and containment," he said. In areas outside BBMP limits, Anekal has seen a 367% rise — from 1,004 cases in the first week of January to 4,691 in the second week. "Anekal, on the border between two major states, is also a hub for traders. The upward graph is not surprising," said a senior health officer from Anekal taluk.
FacebookTwitterLinkedinEMail