NEW DELHI: Prime Minister Narendra
Modi
on Tuesday said current strategies to contain the rapid resurgence in Covid-19 infections were aimed at ensuring least loss of lives and livelihoods and appealed to states to resort to lockdowns only as the very last resort.
Addressing the nation, the PM said he would appeal to states to consider micro-containment zones rather than lockdowns. "In today's situation, we have to save the country from lockdowns," he said. The comments assume significance in the wake of Delhi being placed under lockdown for a week and reports that
Maharashtra
was considering similar measures.
The possibility of a lockdown imperilling a nascent economic recovery seemed to weigh heavy on the PM who said state governments should work to assure migrant workers that there was no need to leave for their homes. "They should be asked to stay where they are and assured that they will be vaccinated and also continue to be employed," he said.
The PM laid emphasis on efforts to improve the supply of oxygen at several levels with the measures including setting up new plants and making sure industrial-use oxygen was utilised for medical purposes. "This time, the corona crisis has meant that the demand for oxygen has risen in many parts of the country. The Centre, states and private sector are all working to ensure that everyone who needs oxygen gets it," he said.
The PM referred to Navratri and Ramzan, and said Ram Navami, which will be observed on Wednesday, reminds us of the need to remember our limits (maryada) and Ramzan is about self-discipline and restraint. "Covid discipline should be followed completely," he said.
Modi expressed condolences and sympathy for those who had lost loved ones to the fresh Covid surge, saying the country should not lose courage and hope in facing the challenge that only a few weeks ago seemed to be manageable. "We will take the steps that we need to take without losing courage. That is how we will win," he added.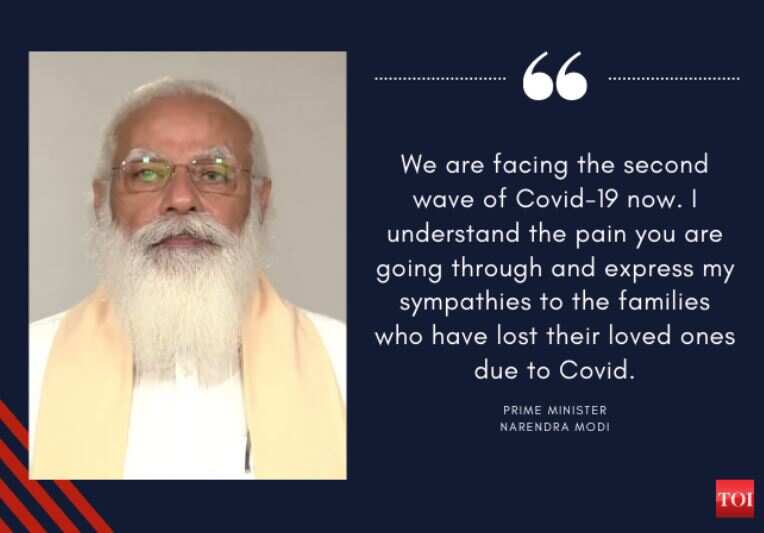 Referring to the decision to permit all above 18 to be vaccinated, Modi said this would help secure the workforce and lead to faster vaccinations. Referring to the decision and other measures such as states and hospitals being allowed to procure vaccines, he said the decisions would soon bring down the rising curve of infections.
Urging people to follow Covid protocols carefully, the PM appealed to the younger population not to venture outdoors unless absolutely needed. "In your mohallas and apartments, please form small committees and help maintain discipline," he said.
"The decision to make vaccination available to those above 18 is intended to ensure that the workforce in cities is able to access vaccines rapidly," he said, adding that the ongoing programme of vaccinating vulnerable groups would continue in government hospitals.
The PM said leading figures in the pharma industry had stepped forward to increase production of medicines. "Beds are being increased and special and big Covid hospitals are being set up. We started work on vaccines early and scientists have developed the cheapest vaccines. The private sector has shown innovation and enterprise and we have speeded up approvals," he added.
He said during the first wave, India lacked medical infrastructure and there were inadequate labs and PPE suits. "The country fought corona with determination, discipline and courage. I am sure that in cooperation with the public, we will be get the better of this storm," he said.