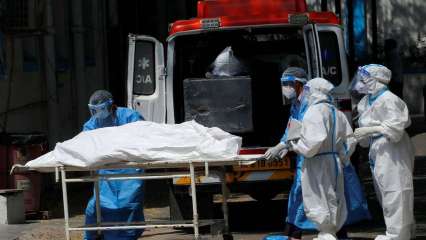 As the world started to limp back to normalcy after getting hit by COVID-19 pandemic around two years ago, it is feared that the deadly virus is resurging again in several countries across the globe. In the last few days, many countries including Russia, the United Kingdom, China, Singapore, Ukraine and other countries in Eastern Europe have witnessed a significant rise in coronavirus cases. 
According to World Health Organisation (WHO), the highest numbers of new COVID-19 cases were reported from the UK (283,756 new cases; an increase of 14 per cent) and Russia (217,322 new cases; an increase of 15 per cent). 
It is to be noted that over 50,000 Covid cases have been recorded in the UK for the first time since July 17. It is learnt that Delta has been the dominant variant in the UK but the cases of AY.4.2 delta sub-lineage (also called Delta plus) is currently increasing in frequency, according to the latest report from the UK Health Security Agency. The report said that Delta plus "sub-lineage accounted for approximately 6 per cent of all sequences generated, on an increasing trajectory".
Week-long paid holiday in Russia
The number of Covid-19 fatalities is increasing in Russia. "By the end of this week and the beginning of the next one we will reach the peak number of cases [in Moscow] for the entire history of the [coronavirus] pandemic," Mayor Sergey Sobyanin was quoted as saying in an interview with Russian TV channel Rossia-1. The growing COVID-19 cases has forced Russian President Vladimir Putin to announce a week-long paid holiday from October 30 to November 7 in Moscow.
Around 3,500 cases in Singapore
Singapore reported 3,439 new cases of Covid-19 on Thursday. A total of 1,613 Covid-19 patients are currently admitted in hospitals, with 346 cases of serious illness requiring oxygen supplementation.
Schools shut, flights cancelled in China
In China, the rising coronavirus cases has forced the authorities to shut down schools and cancel hundreds of flights. China has also ramped up mass testings following a new COVID-19 outbreak.