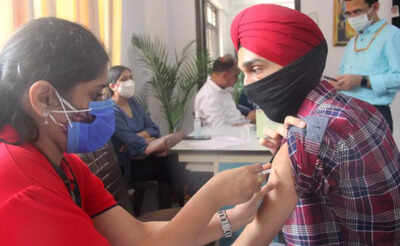 MUMBAI: Powai's LH Hiranandani Hospital is the first in the city to write to the corporation and state government demanding a booster shot for healthcare workers. TOI had reported last week how several healthcare workers and politicians were skirting Co-Win to take the third shot, fearing a depletion in their antibody levels.
A third booster shot against Covid-19 has not been allowed by the Centre yet. However, some western countries have approved a booster shot for those immunocompromised and for healthcare workers. In India, the Centre has said the booster shot is not a priority and the policy would focus on universal vaccination of citizens.
"It's almost six months since health staff took a second jab. In over 80% of health workers, by now the efficacy of vaccine taken has reduced considerably and among many it has become nil as on today," said Dr Sujit Chatterjee, CEO of LH Hiranandani. He added that while the Centre's priority of completing administering of second doses to cover the maximum population is understandable and even logical, it needs to be seen that those on the frontlines are protected. "The booster jab can be restricted only to health workers, which is a tiny portion of the total population," he said.
Several hospital heads that TOI spoke to support the idea of a third shot but have decided to wait for a decision from the Centre. The issue of taking booster shots was also discussed in a recent meeting of the Association of Hospitals (AOH), which includes Mumbai's major trust-run hospitals.
Dr V Ravishankar, COO of Lilavati Hospital, said the AOH won't approach the government for booster shots at the moment.
"The need for a third shot is still being studied. Healthcare workers are measuring antibody levels but there is also something called cell-mediated immunity that must be considered. Most countries have recommended a third shot mainly for those with immune deficiencies," he said, adding that hospitals are watching the emerging evidence closely. The head of a private hospital said several have taken the third shot after measuring their antibodies.
Hemant Deshmukh, dean of KEM Hospital, said breakthrough infections among health workers are being reported, but they are a handful. "If our hospital laboratory is detecting an average of four or five positive cases daily, one or two would be of breakthrough infections," he said.
FacebookTwitterLinkedinEMail