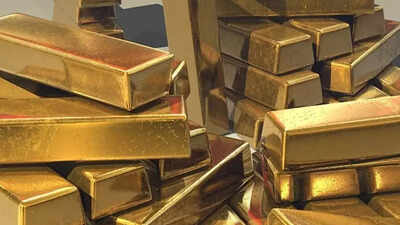 MANGALURU: The smuggling activity in Mangaluru International Airport (MIA) has remained as usual despite the low frequency of flights during the pandemic.
In the last financial year (2021-22), Customs sleuths at MIA have 40 gold smuggling attempts. A total of 16.77kg gold valued at Rs 8.1 crore was seized. The gold was concealed in rectum, trolley hand bags, watches, key chains, milk cans, undergarments, carton boxes and others.
In addition, a total of six currency cases were detected and currency valued Rs 73.98 lakh seized. Most of the gold smuggled to MIA comes from the UAE. Sources from Customs add that though modus operandi changes from time to time, the gold smuggling syndicate behind crime remains the same.
While most of the accused are men, there are also women involved in smuggling. Last year three women were held for gold smuggling. "We have noticed that there is no change in the modus operandi even after the pandemic. The main smugglers rope in blue collar jobs with less pay, visit visa holders – who are turned into mules for smuggling. The mules are unaware about the head of gold smugglers. They are paid with air tickets and cash after successful completion of smuggling," said a source aware about the yellow metal smuggling in MIA.
Another source added that despite any other novel methods of gold smuggling, concealing gold in the form of paste in rectum tops the list. "Among all cases, gold concealed in rectum tops. After detection through machines, we ask them to eject it voluntarily and the smuggler does it without protest," a source said, adding gold smuggling incidents are likely to rise as air travel has become normal after a two-year hiatus.
Apart from gold and foreign currency, Customs officers at MIA have also seized saffron, cigarettes and electronic items.
FOLLOW US ON SOCIAL MEDIA
FacebookTwitterInstagramKOO APPYOUTUBE