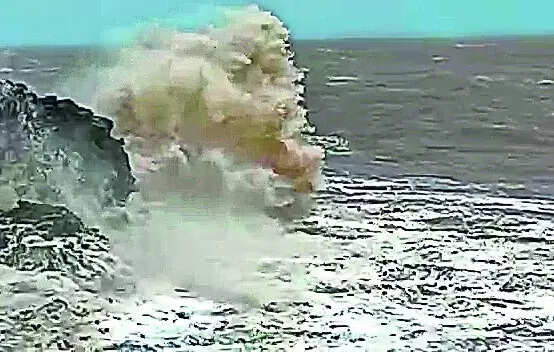 MANGALURU: Due to the low-pressure area that has formed over South East Arabian Sea due to the cyclone Biparjoy, the India Meteorological Department (IMD) has warned fishermen on Karnataka's coast not to venture into seas due to dangerous weather conditions and rough sea conditions prevailing over South East Arabian Sea till further notice.
The department issued a warning of thunderstorm with lightning accompanied by gusty winds with wind speed reaching up to 30-40 KMPH at isolated places over the districts of coastal Karnataka till June 10. The department predicted heavy rain in the region of 64.5mm to 115.5mm at isolated places in districts of Coastal Karnataka, adding that thunderstorms with lightning are also likely to occur at isolated places over all the coastal districts till June 12.
As per a rough sea alert issued by the Indian National Centre for Ocean Information Services (INCOIS), high waves in the range of 2.3 – 3.2 metre are predicted along the coast off Karnataka from Mangaluru to Karwar.
Fishermen have been advised not to venture into east central and adjoining areas of west central and south Arabian Sea till June 10; along and off along and off Kerala-Karnataka coasts, Lakshadweep-Maldives areas till June 10.
The state government through State Emergency Operation Centre, has instructed deputy commissioners-cum-chairpersons of Dakshina Kannada, Udupi and Uttara Kannada districts to disseminate the information to people concerned and for appropriate action as per Standard Operating Procedures.