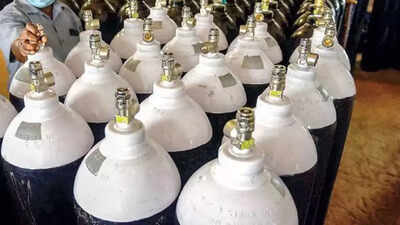 PUNE: The daily oxygen requirement for Covid patients is below 30 metric tonnes in the state at present with just 40% infected people requiring hospitalisation, but the government machinery is watching the situation closely.
State additional chief secretary Dr Pradeep Vyas on Monday told TOI, "The current number of Covid patients admitted in hospitals is 3,628 of the total 9,813 — only around 40% of the active cases in the state. The usage of oxygen supply for these patients per day is below 30 MT (metric tonnes)."
State health minister Rajesh Tope had said last week the possibility of a fresh lockdown in the state would emerge only if the per day oxygen demand exceeded 800 MT. The state's oxygen manufacturing capacity per day is 1,350 MT, but now 1,050 MT is being produced daily because of less demand. Of it, 750 MT is supplied for industrial use and 300 MT is reserved for medical use, including 30 MT for the treatment of Covid patients.
Senior officials of the state government stated that the industrial use could be reduced depending on the medical use.
"As of now, the situation is very much under control. We as a state have a capacity of producing up to 1,350 MT daily. The demand is around 1,050 MT now and it is being divided between industrial and medical purposes," said one of the officials.
The peak requirement of oxygen in the state during the second wave of Covid was 1,700 MT per day. The state had then scaled up the production up to 2,000 MT daily.
FacebookTwitterLinkedinEMail