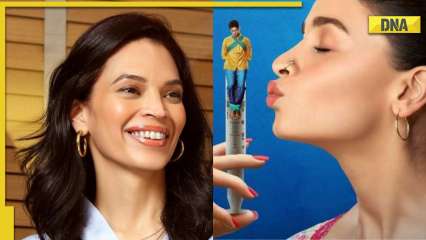 In 2022, Alia Bhatt made her debut as a producer by backing the dark comedy Darlings with Shah Rukh Khan and Gaurav Verma. Vijay Varma, Shefali Shah, Roshan Mathew, and Bhatt-starrer premiered on Netflix with favourable responses. After impressing the OTT audience, Darlings will have its satellite premiere at Zee Cinema. 
The director of Darlings Jasmeet K Reen joined DNA for an exclusive interaction. In the free-flowing conversation, Jasmeet opened up about the impact her first directorial made. "Today, many people come up to me and say, 'I have been through similar situations. Or I have seen it happening around me.' This makes me feel emotional. I feel like I have reflected the society in a manner." 
Jasmeet is in all awe of her producers, Alia and SRK for giving her the liberty to narrate her story with total confidence and conviction. "I took the film to Red Chillies and met Shah (Rukh Khan) sir. Meeting him is always a learning experience. After Tushar and Khan sir, Alia came on board, not only as a star but also as a producer. I am just grateful for the faith they have shown in me. On paper, we have a script that you might like, but backing it with full faith, and allowing the director to pursue her own vision is something, I appreciate. They allowed me to make the film, the way I wanted." 
Narrating a story with the underlays of dark humour, blended with domestic violence, the mother-daughter relationship, and abusive marriage, Darlings wasn't a cakewalk for Reen. "My initial idea was a two-liner, about a mother-daughter, where the mom tries to fix her girl's broken marriage. The mother knows that there is something wrong with the relationship, and they come up with some wacky ideas. So the comedy was always there. The challenge was to balance the tension between the couple, and the people around them. Writing (the film) was tricky, but shooting, editing, and syncing the right background score were other daunting tasks. In a movie like Darlings, we don't crack jokes, but we come up with real-life situations, and dialogues that will be relevant enough to everyone. The humour was there, but we got perfect flavour after we start shooting in Byculla," Jasmeet added. Darlings will have its television premiere at Zee Cinema on 29th January at 8 PM.