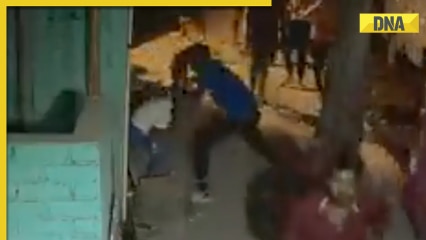 Sakshi murder case prime accused Sahil finally arrested (Photo – Screengrab from video)
In a spine-chilling incident in the national capital, a 16-year-old girl was brutally stabbed to death by her boyfriend in the middle of the street in Rohini, and the entire incident was captured on a CCTV camera, the footage of which is now going viral on social media.

16-year-old Sakshi was on her way to visit her friend for a birthday party when her boyfriend, 20-year-old Sahil, stopped her in the street and repeatedly stabbed her, knifing her over 20 times, and then crushing her head with a cement boulder.
The disturbing CCTV footage of the incident sent shivers down the spine of all Delhi residents, while politicians showed condemnation for the incident. However, it remained unknown as to why Sahil had killed Sakshi in such a brutal manner.
Why did Sahil kill his girlfriend Sakshi?

While the reason for the fight is not yet known, the police revealed after an interrogation that the couple had been quarreling for the last two days. Sahil and the victim girl had a major fight on Saturday night, the day after which the murder took place.
Sahil was reportedly trying to stop the girl from stepping out and meeting her friend for the birthday party. A friend of Sakshi revealed that the victim had known Sahil for nearly four years, and had known that the two were fighting, but didn't inform the minor girl's parents on her instruction.

Sahil stopped Sakshi in the middle of the street in the Shahbad Dairy area of Delhi's Rohini, where he stabbed her 22 times. He then picked up a rock and repeatedly bashed her head before walking away from the scene, as passersby watched keeping mum.

Within 24 hours of the murder, Sahil was arrested by the Uttar Pradesh police from Bulandsheher and has been taken to the national capital for interrogation and further court proceedings.

READ | Delhi: Minor girl stabbed 20 times, head bashed with boulder by boyfriend; disturbing CCTV footage surfaces