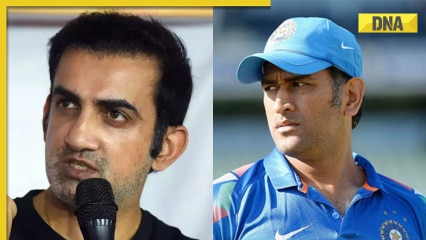 Gautam Gambhir claimed that MS Dhoni's captaincy prevented him from accomplishing all that he might have as a batter.
MS Dhoni, a former captain of India, is unquestionably one of the most adored athletes in the world. Dhoni has amassed a sizable fan base over the years. The friendship between Dhoni and former India batsman Gautam Gambhir usually draws attention, though. The former captain of the Kolkata Knight Riders has raised questions from the media for only praising the captain's accomplishments during India's 2011 World Cup victory and failing to acknowledge the contributions of the entire team.
Gambhir, however, claimed that Dhoni "sacrificed" his batting position for the team, otherwise, he would have been India's No. 3, during a recent interview on Star Sports.
Gambhir claimed that Dhoni's captaincy prevented him from accomplishing all that he might have as a batter. If Dhoni had batted at No. 3 for India, said to Gambhir, the wicketkeeper-batter would have broken numerous records. The former captain of India even went on to say that Dhoni had given up his international runs in order to win championships.
"MS (Dhoni) was the first wicketkeeper of India who could change the game with his batting. Earlier, they were keepers first and batters later, but MS was a batter first and then was a wicketkeeper. It was a blessing for Indian cricket that in MS Dhoni, we got a wicketkeeper-batter who can win you matches from No 7 because he had that power game. If MS would have batted at No 3, I am sure he could have broken several ODI records," said Gambhir on Star Sports.
Gautam Gambhir praises MS Dhoni. (On Star)#AsiaCupFinal pic.twitter.com/tjD4ur2QjN


— Vipin Tiwari (@vipintiwari952) September 17, 2023
"People always talk about MS Dhoni and his achievements as a captain, which is absolutely true. But I feel due to captaincy, he sacrificed the batter in him, and he could have achieved much more with his bat which he didn't."
"And this happens when you are a captain because then you put the team ahead, and you forget about yourself. He started batting at No 6 or 7. If he had not been captain, he would have been India's No. 3, and I think he could have scored more than what he has scored and could have scored more hundreds also," he added.
Dhoni has guided India to three significant ICC victories, making him probably the best captain India has ever had. India won the 2007 T20 World Cup, the 2011 ODI World Cup, and the 2013 Champions Trophy under his leadership.