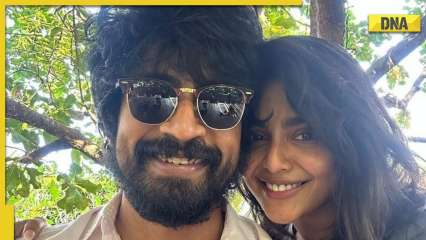 On Wednesday, PS1 actress Aishwarya Lekshmi dropped an adorable photo with Arjun Das on Instagram with a heart emoji. It seems that the actress has now confirmed their relationship with the Kaithi actor.

Netizens have been reacting to the photo, one of the social media users wrote, "My little heart can't handle this Arjun Das and Aishwarya Lekshmi? But damn cute pair!."  The second one said, "Lifetime settlement." The third one said, "tell us it's just a movie announcement please! k bye." The third one said, "How many more pain will the heart bear." 



For the unversed, Kaithi actor Arjun Das will make his Hindi debut as the lead in the film. Impressing fans and critics alike with his powerful performances in blockbusters like Kaithi, Master and Vikram, Arjun will lead a talented cast of young actors in the yet-untitled film. In equally exciting news, the Hindi film will be directed by Madhumita Sundararaman who shot to fame with her endearing Tamil film Karuppudurai (KD). The presently untitled film also marks Madhumita's foray into the Hindi film industry after her celebrated filmography in Southern languages. 
Arjun Das who makes his Hindi debut with the film said in a statement, "I am delighted that my first step in the Hindi film world is happening on such a strong footing. With Madhumita in command of the re-imagining of such a stellar film like Angamaly Diaries and to have Abundantia Entertainment and Vikram produce the film, I couldn't have asked for a better start to this new chapter for me. Madhumita has brought her own unique flavour to this film and I can't wait for the audience to watch her vision for the film."
Leading from the front, director Madhumita said, "Abundantia Entertainment has a strong track record of  backing and producing exciting and progressive stories. I'm thrilled and grateful to collaborate with a producer that supports unique voices. This film will be my interpretation of Lijo's amazing film, while retaining the essence of the original. We are hopeful that the Hindi film will receive the love and appreciation that the original film did and I take this responsibility proudly. I couldn't have asked for a better actor than Arjun to play Xavier the protagonist of my film and its been a delight to work with him and this exciting bunch of actors and crew as we go about bringing this story to life."

Read|Kaithi actor Arjun Das to make his Hindi film debut with remake of Malayalam movie Angamaly Diaries