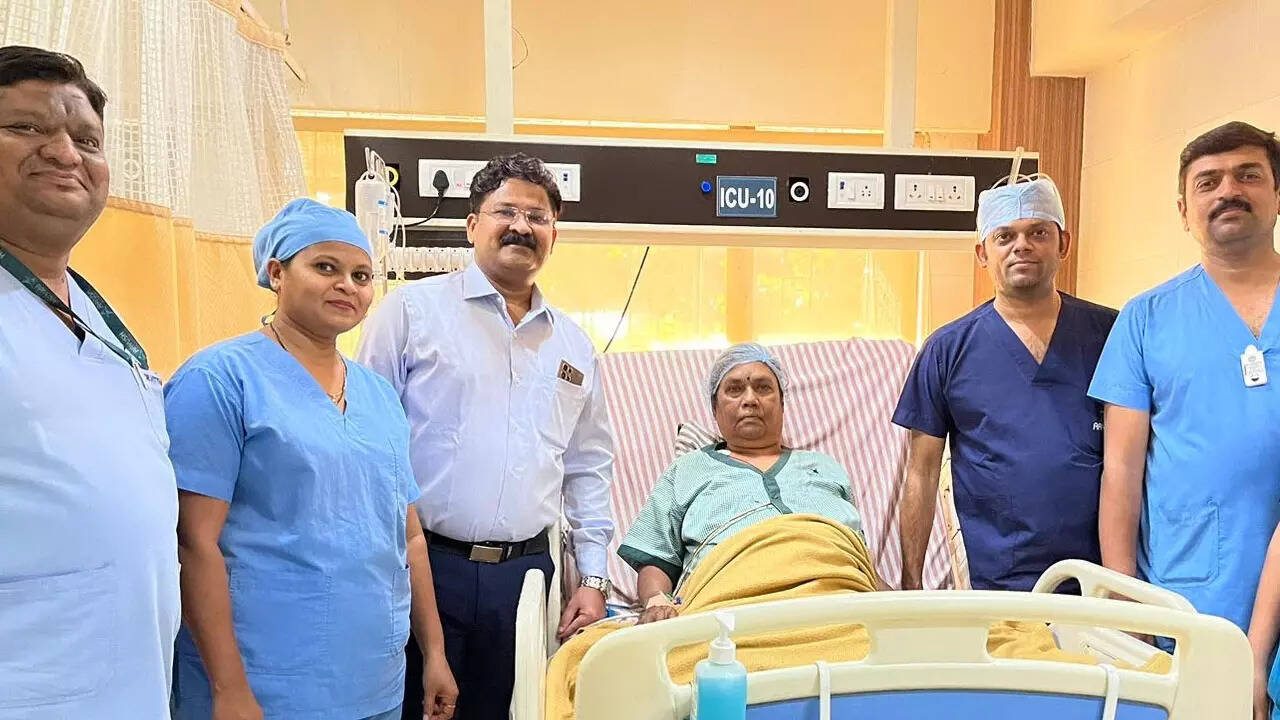 KALYAN: A 66-year-old woman, who had 95% blockages on her heart and was suffering from multiple comorbidities including uncontrolled diabetes and obese was given a new lease of life after doctors at private Ayush hospital in Kalyan used world's smallest heart pump an Impella device, to help maintain his blood flow during a high risk protected angioplasty performed on her.
After few hours of hour operation, the patient, the impella device which is used to support the heart's function during the critical procedure was removed and the functioning of all of her viral organs was normal.
Impels device is a small heart pump that a doctor can insert into the heart without surgery in order to support the functioning of the heart for patients who have a low heart function.
The patient Pramila Mahatre is resident of Pen area in Raigad District. On Sunday she suffered a major heart attack. She had chest pain with extremely low saturation 60-70%.
On Sunday late night she got admitted to Aayush hospital in Kalyan in critical situation and immediately cardiac management was started for her.
The cardiac doctor team who conducted angiography it showed critical left main disease 95% blockage of main artery of heart.
Dr Prashant Kasar interventional cardiologist said, "This type of blockage need very early surgery and carries a very high risk of life. Without operation these patient do not survive. Considering very critical blockage we suggested her early bypass operation, however it was of very low heart pumping, diabetes and obesity".
Dr Kasar further said,"She was very high risk for bypass operation hence family refused bypass operation".
Considering patient's life at risk she was taken for angioplasty. Normally these type of angioplasty also carries extreme risk. To reduce her risk doctor suggested to used innovative heart pump (Artificial Heart Impala 2.5) for her to reduce complication at angioplasty.
After family agreed doctor team arranged impala device at hospital and on Thursday, cardiologist Dr Kasar, Dr Nagesh Waghmare, anaesthetic Santosh Gaikwad and physician Dr Amit Botkondle and intensive care unit team successfully conducted critical angioplasty.
Dr Amit Botkondle said, "The patient recovered very fast, she was conscious throughout the procedure and her life was saved. This type of critical angioplasty using impala is done first time in Kalyan and Central Mumbai".