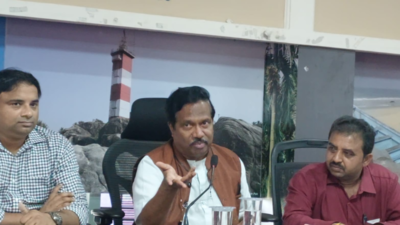 Kannada Development Authority chairman T S Nagabharana (middle) at a review meeting in Mangaluru on Friday.
MANGALURU: Kannada Development Authority chairman T S Nagabharana said employees from other states, who are working in Karnataka, should learn Kannada compulsorily.
"Conduct Kannada learning classes for employees from other states, and take action against those who are not willing to learn the language," he told industries and establishments. He also insisted that banks make challans, receipts, cheque books, applications, advertisements and signboards available in Kannada too.
Chairing a meeting on Kannada implementation here on Friday, Nagabharana said that Kannada cells should be set up in industries and establishments, to promote the language on the lines of Hindi cells in various banks.
"Banks should implement the three-language policy compulsorily. There is a need for a proactive mindset to learn Kannada. The constitution of Kannada cells in establishments will increase the use of Kannada, which in turn will help in the growth of Kannada language. The name boards of establishments and offices should be written compulsorily in Kannada. A 'Kannada kaanisi, Kannada kelisi' campaign should be launched across the state. All schools should make singing Nadageethe mandatory," he said.
The National Education Policy (NEP) has also given emphasis to regional languages, he noted.
He said that the authority has directed Mangalore Refinery and Petrochemicals Limited (MRPL) to use Kannada signboards in its premises. The MRPL authorities have informed that out of 170 employees recruited recently, 14 were Kannadigas. Despite exams being conducted in Karnataka, not many Kannadigas have applied for the post, Nagabharana said, quoting authorities from the MRPL.
"I have asked the MRPL managing director M Venkatesh to give priority to Kannadigas while recruiting employees," he said. Deputy commissioner K V Rajendra said that as per the recommendations of the Sarojini Mahishi report, 70% of the employees should be Kannadigas, but the MRPL has 63% of Kannadiga employees.
FOLLOW US ON SOCIAL MEDIA