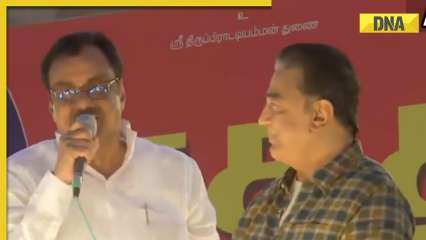 Erode East bypoll: MNM founder Kamal Haasan campaigns for DMK-Congress candidate, watch (Photo: ANI)
Tamil Nadu: Political parties have started campaigning on Erode East roads ahead of the February 27 bye-election in the Assembly constituency. Amid this, Makkal Needhi Maiam (MNM) chief Kamal Haasan on Sunday joined the bypoll campaign, but not for his own party.

The veteran actor canvassed for ruling DMK-headed Secular Progressive Alliance candidate EVKS Elangovan. Since the bye-election date was announced for Erode East, the constituency is in Thiruvizla mode.

WATCH  Makkal Needhi Maiam (MNM) founder Kamal Haasan campaigns for DMK-Congress candidate for Erode-East bypoll, EVKS Elangovan, in Erode TamilNadu pic.twitter.com/5ZyuHaMS4X
— ANI (@ANI) February 19, 2023
Political parties captured their places with their flags on every nook and corner of the roads. All the lodges in Erode got full with political top-to-bottom-level leaders halted for campaigning. To check cash supply, vehicle checkups are in full swing by setting up various check posts.

Different troops of the CISF, RPSF and ITBP are conducting vehicle checks and guarding strong rooms. Tamil Nadu Special Force units are also involved in patrolling and security in Erode East. With State Police, a total of 400 parliamentary personnel are on election duty in erode east.

READ | Tamil Nadu: 150 satellites made by Class 6-12 students launched under APJ Abdul Kalam Mission
Though 77 candidates are contesting, DMK alliance Congress Candidate EVKS Elangovan and BJP alliance AIADMK candidate Thennarasu are seen as in a tight fight. Besides this Seeman`s Naam Tamilar Katchi, and Vijayakanth`s DMDK would play a small role in this election.

BJP State President Annamalai is to campaign for the AIADMK candidate and Kamal Hassan is to campaign for the DMK-Congress alliance candidate on Sunday. DMDK General Secretary Premalatha Vijayakanth is also to campaign on the same day.

According to the officials, there are 238 polling stations in the constituency and 77 candidates are contesting the election. Five voting machines shall be installed in each polling booth.
While speaking with ANI about the arrangements made for the bye-election, Erode East Returning Officer and Erode Corporation Commissioner Sivakumar said, "We are making all arrangements to conduct elections in a good way".

During the campaign, AIADMK`s main slogan is the rise of milk prices, power bills, increase in property and water taxes. Whereas DMK campaigned with allegations of corruption during the AIADMK government.