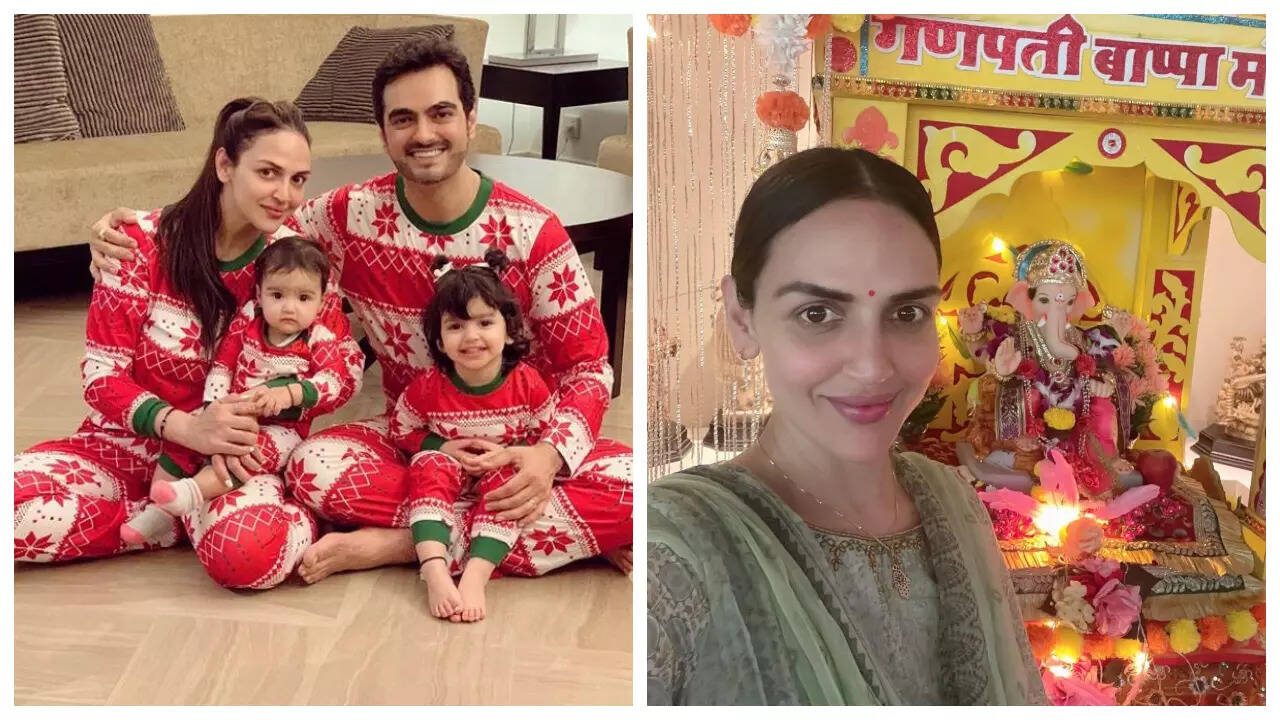 Like every one of us out here, Ganesh Chaturthi has come with a lot of happiness and hope for
Esha Deol
. Every year, the actress welcomes
Ganpati Bappa
to her house for 10 days. ETimes exclusively caught up with Esha on this auspicious occasion to know about her
Ganesh Utsav
celebrations, her fondest memories of the festival and how the pandemic has changed the way we celebrate. Excerpts…
How do you usually celebrate Ganesh Chaturthi?
Right from my childhood days, Ganesh Chaturthi is something that I always look forward to. Every year, we welcome Ganpati Bappa home for 10 days. His mandir and the decorations are all very beautifully done. Every year, we have a new theme and it just keeps getting better. The only difference between then and now is that now we are getting eco-friendly Ganpati Bappa idols home, keeping in mind the safety of our environment. Our Ganpati idols from the past few years have all been eco-friendly. The immersion is done in the house in a big bucket.
We enjoy the modaks and the puran polis. Every day, a new sweet dish is made and we perform the aarti twice – in the morning and evening. Both the times there is a sweet or a special dish that is made and offered to him. We all look forward to the 'Sukh Karta, Dukh Harta' aarti. My daughters (Radhya and Miraya) love singing and performing the aarti of Ganpati Bappa. It is so nice to see the next generation taking over and enjoying the same things that we have grown up doing. It is a beautiful time in everyone's house.
The ongoing pandemic has changed the way we celebrate festivals in India to a great extent. How do you look at this?
With the pandemic, things are really difficult. It is especially difficult for us in this country where we have so many festivals to look forward to. As Indians, there is a lovely energy and zest when all of us get together and celebrate the festivals. Right from Janmashtami to Ganesh Utsav to Durga puja, everything is celebrated with so much enthusiasm. The pandemic now has put a brake on it. But I am sure, with the grace of God and the discipline that all of us are maintaining, we will overcome this soon.
We have come a long way from 2020 to 2021. In 2020, we kept it as minimal as possible, decoration wise and not inviting anybody else to visit our Ganpati Bappa at home. This year I think, everyone has controlled the situation pretty well so we have taken it a notch higher, but still not all out like we do every year. It has been a little more relaxed as compared to last year. Touchwood! The credit goes to us. Mumbaikars are maintaining great discipline, following all the protocols. I hope it stays this way and finally vanishes.
What are your fond memories associated with Ganesh Chaturthi?
Right from a very young age, I have performed at the Pune Ganesh Festival along with my mother and have done solo acts too. It is a grand celebration in Pune. From a very young age, I have memories of going there, performing and visiting various pandals. I miss that a lot ever since this pandemic has started. Or else, every year, we perform on stage, live in front of a huge audience. They are beautiful moments. I hope next year, we can be back on stage, performing at the Pune festival at Ganpati. Last year, we did manage to perform during the peak of the pandemic. My mother and I did a Ganesh performance for a TV channel. The way we performed was very different. We did our rehearsals over zoom and finally, we performed with a green screen backdrop in our dance hall at home. They shot it all on camera and it was beautifully taken care of. With the green screen, they merged the background dancers who performed separately, thanks to VFX.