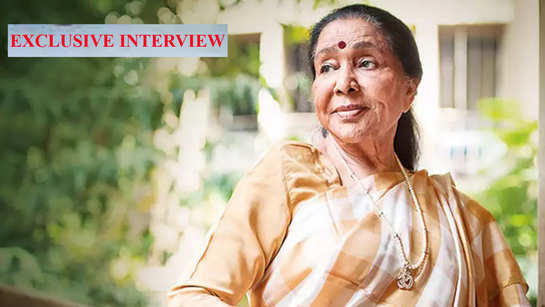 If and when you get an opportunity to talk to the legendary
Asha Bhosle
, you shouldn't call yourself lucky but rather someone who must have done some good deeds in his/her previous birth. This journalist at ETimes caught up with Ashaji online yesterday afternoon and what a candid chat it turned out to be! So we spoke about a lot of things, including her Golden Run of course. And, here are the excerpts from the unforgettable, unmissable conversation that transpired in video:
Ashaji, many musicians, especially the aspirants are complaining nowadays that did not get their due at the right time. Your take on that, please?
I believe that you will froth up if you have talent. Take for example Jeetendra, Rajesh Khanna, Dharmendra, Rekha. Hard work will pay, provided you don't get carried by your self worth and the initial money you earn. One should be just a nice person, other things will fall in place. During the course of my recordings, so many times I have brought singers singing with me in the front so that their voice doesn't get lost.
What do you think about today's music?
I don't listen to it. I prefer to listen to good music- Mehdi Hasan, Pandit Jasraj, Bhimchand Joshi and their ilk. As far as singing to those who sang with me, I don't need to revive my memories; I know what happened at the recording studios, I know how they sang- basically I know their craft in and out.
Tell us about your new show Asha Ki Asha, which I think can be a strong curative for today's scenario…
I have wanted this to happen since many years as I see a lot of people, especially youngsters, yearning to sing. Now, in our film industry, it is very tough for newcomers to get a chance easily. The thought struck me when one day, I saw a lot of youngsters on my granddaughter's laptop, attempting to sing and dance in trying to party.
How's the response been?
Videos have started coming, I am filtering them and putting it on my social media handle. I want to give a lot back to the industry. I am looking into the videos personally and filtering them. I don't want any voice who is trying to ape the voice of any other singer- be it Mohd Rafi, Kishore Kumar, Lata Mangeshkar or myself. I want originality. The response is so far, so good. I have uploaded their videos and I want more people to come forward so that the present and future of our music industry has a real, melodious voice. I am trying to contribute to the welfare of music.
On the other side, we have the singing shows aired on national television. Your take on that?
I have been to such shows. People must realise that singing is not about short clothes or being dramatic. Gaana gaane se zyada acting hoti rehti hai!
You said, you pushed new singers so that they come forward and sing and not get lost. A few names?
(Laughs) Let's avoid names in this question as the people I name won't like it.
Pick your best song, your most favourite song I mean…
You do that (laughs).
My choice is unusual- 'Jab Andhera Hota Hai' from 'Raja Rani'…
Same here (smiles).
Oh, those were the days… Today, one actress' has 3 singers singing for her in the same film…
Yes, and that never happened in my times. Actresses used to be so involved in music. They used to come and sit while the songs were being made. aaj toh pata hi nahin chalta ki kaunsi actress hai.
Helen and Padma Khanna used to insist that you sing for the songs picturised on them…
Yes.
And you ran into a bit of argument on the sets of 'Johny Mera Naam' during the recording of a Padma Khanna song, 'Husn Ke Lakho Rang'…
Yes, there was a line in that song 'Kaunsa ang dekhoge?' I didn't want to sing it, but the film's producer Gulshan Rai prevailed upon me. Sahir saab ka gaana tha. When I asked him to change the lyrics, he said he cannot because the situation demanded it as it's a seduction scene (Padma Khanna was seducing Premnath in that song). He added that aapko gaana hi padhega as nobody else will be able to sing it. Now Vijay Anand, Dev Anand and Pran were associated with the film. Nahin chahte huye bhi maine ggaya.
90s had a spate of double-meaning and vulgar songs. Did you refuse singing for such songs, thereafter?
Yes, I refused many such after that. Jab dimag kharab nahi hota na, toh double meaning samajh hi nahi aati. Aur jab umar ho jaati hai, toh samajh aata hai.
Your voice suited which actress the most?
Madhubala and Rekha.
I recall, you told Panchamda (RD Burman) once that you cannot sing 'Aaja aaja' from 'Teesri Manzil' as you might not be able to give justice to it…
No, I didn't tell him that I can't sing. I told Panchamda that I will need some time to rehearse it. It was a difficult song no doubt, but singing is my job and why wouldn't I do it? I never backed out from any song saying 'ye mujhe aayega nahin'. If I don't have the talent and aptitude for singing, why should I have been in the singing profession? In fact, if a filmmaker ever told me that would he want to modify a song to make it simpler or whatever, I would rather take it with both hands and take it as a challenge. Meri saari life challenge hai. I am listening to 600 songs or thereabout for Asha Ki Asha. Why? Simply because I want to see strong, motivated singers.
There was one more thing that happened in your times. There was never a film (or maybe seldom) which had more than one music director…
(Smiles) Yes, woh zamana hi kuch aur tha, aaj even playback singers are changed midway and only actors are not- because that would increase the film's budget rather dearly (smiles). Hamare time par, people wanted a specific talent and not just kaam chalana hai. I remember I was away for a month and a filmmaker waited for a month for me to get back from a holiday for the song, 'Nigahen milane ko jee chahta hai' from 'Dil Hi To Hai' was the song. On the other side, music directors of today don't have too much ego. Same applies for singers. Bas gaane aane chahiye.
Today, often, one doesn't understand while listening to many songs that who has lent the voice…
Yes, even I have to ask the youth around me that who's singing. Technology may have increased, but the soul is absent. I remember, we did so much improvisation on what we were told to do- and ended up only enhancing the numbers. We worked very hard. We always thought that the song that I'm singing should not be my last song.

Any song of yours you felt should have done better than the response it received?
Madan Mohan's 'Shok Nazar Ki Bijliyan' from 'Woh Kaun Thi?'
Frankly, I don't see the melody of yesteryears' returning anywhere in near future at least…
Jo bhi banana tha, woh bana liya. Ab kya banaoge? But duniya gol hai.
Haan, aur asha par hi duniya kayam hai…
(Smiles) Haan.
Parting shot?
Yahan koi nahin hai aapka- na bhai, na dost, na husband. Your work has to speak for you.