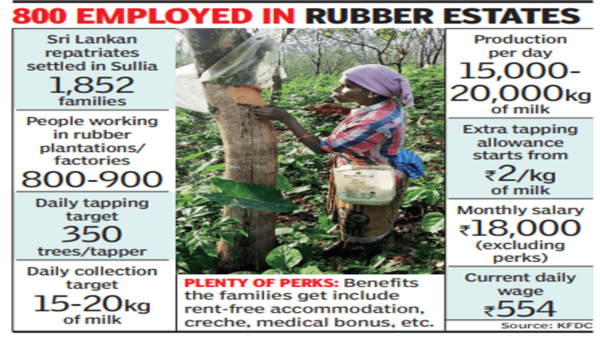 BENGALURU: After rehabilitating
Sri Lankan
repatriates for six decades, the
Karnataka
government has decided to discontinue various facilities provided to nearly 2,000 Lankan Tamil families settled in Sullia taluk of Dakshina Kannada district. They are employed in various rubber estates managed by Karnataka Forest Development Corporation (KFDC).
Having accepted the task of rehabilitating about 1,852 families in early 1960s as part of the Sirimavo-Shastri pact of 1964, Karnataka provided them jobs in rubber plantations on the periphery of forest areas.
"As part of the GOI pact, we (Karnataka) were supposed to give employment to two generations (fathers and sons) along with education and health facilities and basic infrastructure, regardless of their financial condition. However, now what we see in the region are third-generation repatriates. In the absence of any fresh guidelines from the Centre or state, we have decided to discontinue all facilities," explained Tara Anuradha, chairperson, KFDC.
Sources in the forest department said KFDC bears expenses of nearly Rs 1 crore every month to pay for the facilities provided to Lankan Tamils. In 2012, then forest minister CP Yogeshwara had assured KFDC of extending benefits to third-generation repatriates as well and sought legal opinion.
"Since then, nothing has been decided. Also, the corporation is struggling to cope with losses, especially after the pandemic and the government's ban on eucalyptus," explained an official of the corporation. According to Radha Devi, additional principal chief conservator of forests (APCCF) and MD of KFDC, about 800-900 persons from these families are employed at three rubber factories at Bilinale, Medinadka and Aivernad in Sullia.
KFDC has undertaken rubber cultivation on 4,443.3 hectares. "Ranging from rubber tappers to processing assistants at our units, we have employed Sri Lankan repatriates and provided them all the facilities at more than 40 labour colonies. We have a fully functional hospital to cater to their health needs," she said.
As per the records, repatriates are paid a daily wage of Rs 554, which translates into Rs 18,000 per month. "This is over and above various perks they get as part of the agreement. They are: Gratuity at the rate of 13%, rent-free accommodation, paid holidays (14 days), creche facility, supply of nutritious food to children of repatriates, books and stationery, festival bonus, medical bonus, entertainment allowance, raincoat-sandals (once in two years), gumboots, newspapers, weekly advance for visiting native place, yearly bonus at the rate of 8.3%, milk powder for kids, tea allowance and food allowance (Rs 10/day)," Devi explained.
The APCCF added the terms and conditions of the original pact have been explained to the repatriates. "When we held discussions with their unions, their only demand was to provide employment to their children. Many petitioned us that their kids have acquired only these skills and are unable to do any other work. They agreed and said they don't want other facilities. Hence, we are employing them as and when there is work at the rubber estates but they will not get facilities provided to their previous generations," she explained.
KFDC produces about 830kg of rubber daily. "Tapping has to be done in the wee hours and requires years of practice. Annually, we produce about 3,000 metric tonnes of rubber," Anuradha said.
KFDC's golden jubilee
Set up in 1971, KFDC is celebrating 50 years of service to the state and country. Since the ban on eucalyptus, it is cultivating casuarina, subabul, bamboo and rubber. The golden jubilee celebrations at Vidhana Soudha will be graced by governor Thaawarchand Gehlot and CM Basavaraj Bommai on Saturday.