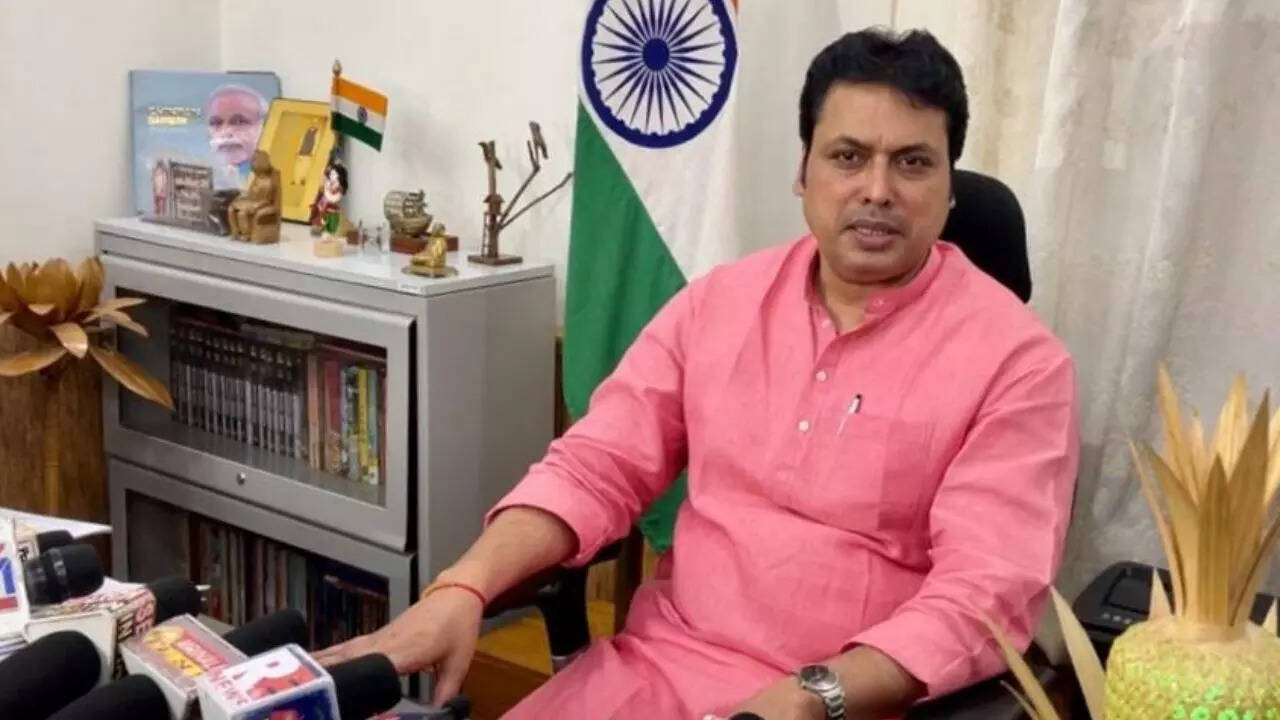 AGARTALA: A day before the BJP Tripura state executive meeting on Monday to chalk out the plan for 2024 elections, former Chief Minister and Rajya Sabha MP Biplab Kumar Deb on Sunday alleged that some external forces have been interfering with the party activities, which is creating a disturbance in the functioning.
Without naming anybody Deb kept on saying to media, "I have been working with the direction of Prime Minister
Narendra Modi
and BJP chief J P Nadda for the party. You all are from Tripura and must be realizing what is going on here. 80 percent of today's leaders in BJP are brought by me and I expect we all should work like a family."
Reportedly, soon after his press conference, Deb was called back to Delhi. He came to Tripura on Sunday afternoon. Since, morning there was a talk in the city that something big is going to happen in the ruling BJP, as Deb convened a meeting with the leaders who had been ousted from the different posts after the new government was sworn in for anti-party activities, hatching conspiracies, and their involvement in various nefarious activities.
According to police, a section of BJP workers has been resorting to extortion, mafia activities, indulging in violence and attacks on opposition workers despite repeated warnings from the Chief Minister, and added, "Intelligence input suggested that a group of senior BJP leaders has mobilized the local level criminals who got entry into the party in last five years to disturb Manik Saha's dispensation."
The matter was brought to light about a month ago when police registered a case of extortion against BJP Yuva Morcha president of South Tripura, Nitish Debnath (Suman), and Secretary Subhrajit Patari on Saturday based on the complaint of a local contractor and presently both of them are in custody.
Thereafter, Chief Minister constituted a Special Task Force (STF) with pan-Tripura jurisdiction to handle organized criminal groups, drug dealers, criminal syndicates, extortion gangs, and similar nature of crimes. Names of a couple of BJP top leaders surfaced in the nexus, which has shaken the party's rank and file.
The party president Rajib Bhattacharjee and Chief Minister Dr Saha were not available for comment on Biplab Deb's allegation. And, a couple of other party functionaries declined to react to the issue but said they are not authorized to speak on the matter.