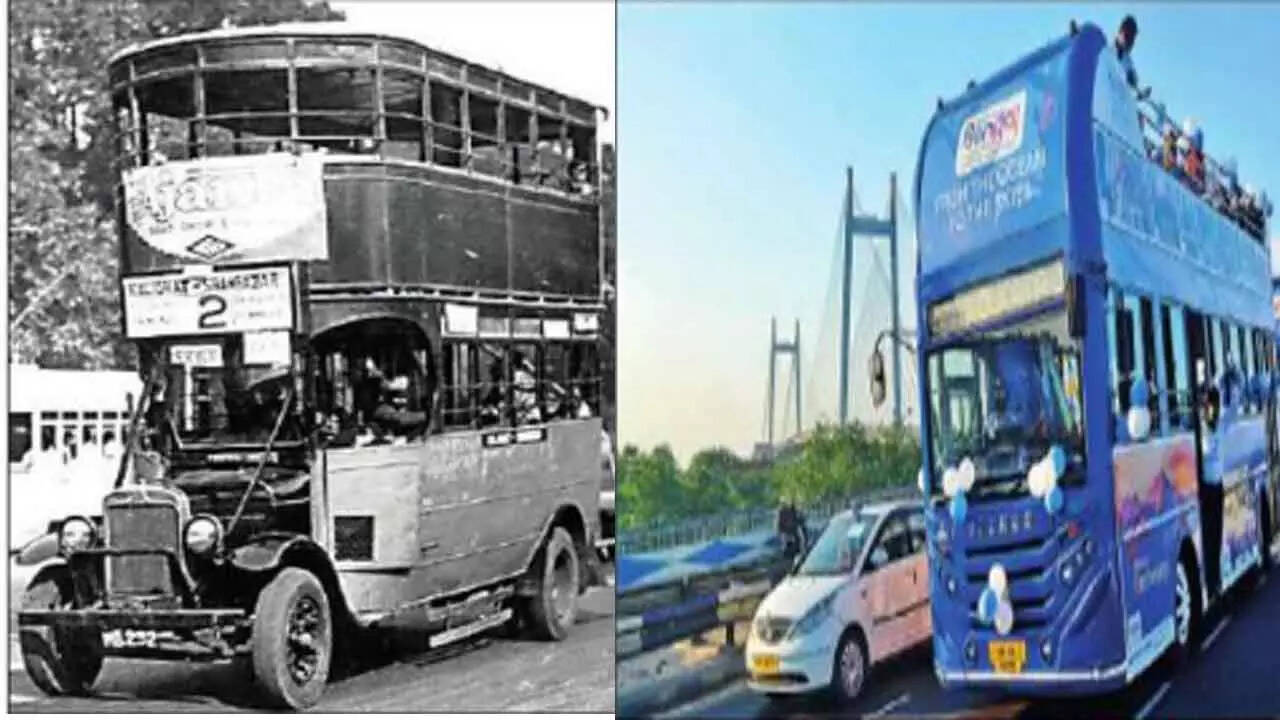 KOLKATa: Motorised buses, arguably the most popular mode of intra-Kolkata commute, quietly marked a milestone – 100 years in the city – while Kolkata marks 150 years of trams.
According to archival data of the British government sourced by Kolkata Bus-o-pedia, an online resource run by bus enthusiasts, the first motorised bus rolled into Kolkata in 1922. A year later, there were 15 plying in the city. In three years, there were 448 buses, which grew to 1,952 by 1938.
There are, however, two other accounts that claim motorised buses arrived earlier. According to scholar Teesta Dey – in the chapter titled 'A Historical Review of Mass Transport Development in Kolkata' in the thesis titled 'Road based mass transport services in Kolkata – An appraisal' submitted in 2015 at the department of geography, CU, the first private bus service was started in 1918 by A Abdul Shovan, a trader, who plied between the city and some districts. According to the West Bengal Transport Corporation website, bus services commenced in the city in 1920.
Buses and trams have a close connection. Buses manufactured by Walford & Co were introduced in the city by Calcutta Tramways Company in 1922-23, according to Kolkata Bus-o-pedia researchers.
The double-decker buses were introduced in 1926 by Walford & Co, with a carrying capacity of 56 passengers, according to Dey. Within the first few years of operations, the number of buses went up to 50. Though double-decker buses vanished from the roads around 2005, the state revived them by introducing open-deck double-deckers in 2020.
Calcutta State Transport Services was set up on July 31, 1948. But it was over a century before that – in 1830 – that the first attempt to operate a bus was made. Horse-drawn buses were introduced between Dharmatala and Barrackpore. But they proved unviable and were discontinued.
Initially, buses had interesting monikers, like Menoka, Kinnari and Pather Bondhu, instead of route numbers.
"The buses were initially seen as a supplement to trams," said Aniket Banerjee, general secretary of Kolkata Bus-o-pedia. But Kolkata's buses soon became the most preferred mode of transport.
"It can be said Kolkata was the first city where motor bus service was started for passenger movement," Dey wrote in her thesis.
However, in recent years, over 100 state bus routes have disappeared. The minibuses are also in danger of being phased out. A rough estimate by the city's minibus unions says barely 10% of the once 1,900-strong fleet would still be roadworthy by October 2025. Of the city's 6,000-strong fleet of private buses, only around 2,000 are on the roads.
"Most bus operators do not want to continue in the trade since it has become unviable," said Suburban Bus Services secretary Titu Saha.
"Now, private bus routes need to be studied and realigned," said transport researcher Sanjay Banerjee.