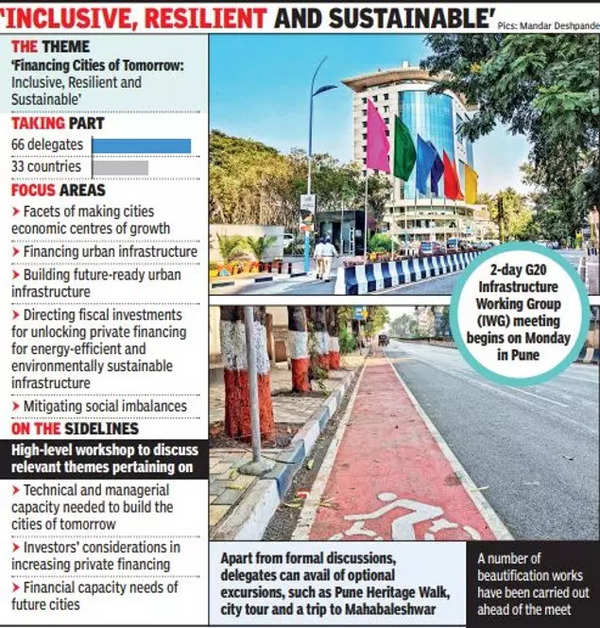 PUNE: As experts from member countries take part in the two-day G20 Infrastructure Working Group (IWG) meeting in the city beginning today, the theme decided upon for deliberations has been declared as 'Financing Cities of Tomorrow: Inclusive, Resilient and Sustainable'.
A total of 66 delegates from 33 countries have confirmed their participation.
The theme will attempt to focus on various facets of making cities economic centres of growth, financing urban infrastructure, building future-ready urban infrastructure, directing fiscal investments for unlocking private financing for the sake of energy-efficient and environmentally sustainable infrastructure, and mitigating social imbalances.
On the sidelines, there will be a high-level workshop to discuss relevant themes pertaining to the technical and managerial capacity needed to build the cities of tomorrow, topics like investors' considerations in increasing private financing, and the financial capacity needs of future cities.
The meeting is being hosted by the Indian finance ministry's Department of Economic Affairs (DEA), along with Australia and Brazil as the co-chairs. Solomon Arokiaraj, the DEA joint secretary, told a press conference on Sunday that Union Minister for Micro, Small and Medium Enterprises (MSME) Narayan Rane will be inaugurating the meeting on Monday.
A Press Information Bureau (PIB) release stated, "Over the course of next two days, various official meetings and cultural programmes are scheduled. On January 16, the Indian Presidency will flag off the first meeting of the 'Infrastructure Working Group.' In the first half, the IWG delegates will undertake a series of official meetings and discuss the 2023 infrastructure agenda. Post-lunch, the delegates will visit the Savitribai Phule Pune University for a tree plantation event, followed by a workshop on 'Financing For The Cities Of Tomorrow'. The day will conclude with a networking dinner, and this will mark the closure of the Day 1 meetings and events."
On January 17, the IWG will deliberate on four sessions, followed by the vote of thanks to delegates.
The two-day meetings in Pune will conclude with a farewell dinner.
Apart from the formal discussions, the department has arranged for optional excursions, such as Pune Heritage Walk, city tour and a trip to Mahabaleshwar.
The Indian G20 Presidency's theme of 'One Earth, One Family, One Future' sets the tone for the 2023 infrastructure agenda under the 2023 Indian G20 Presidency.
The theme underlines the message of equitable growth and aptly ties in with the central agenda of the discussions – building resilient, inclusive and sustainable urban infrastructure.