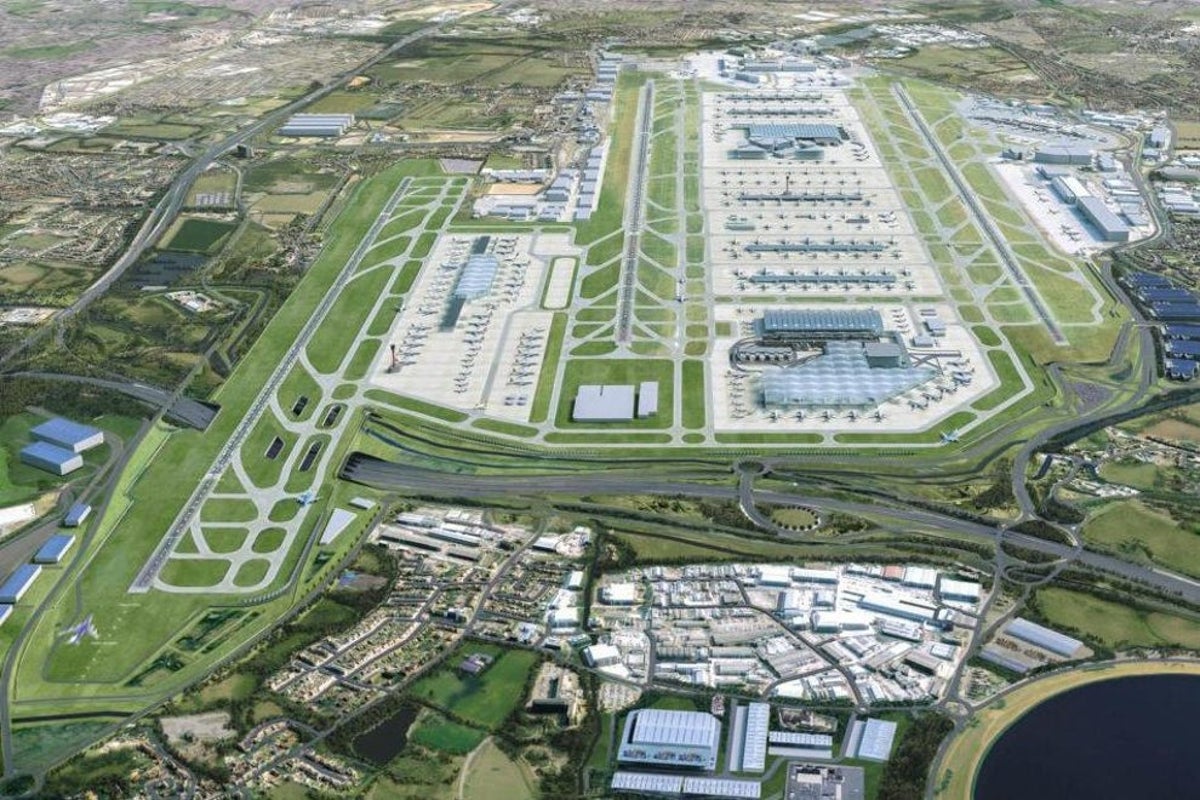 Heathrow airport is still on course to expand, the outgoing chief executive insists, with the coronavirus pandemic demonstrating how crucial it is to build a third runway.
John Holland-Kaye was speaking exclusively to The Independent on the day he announced he will be standing down after nine years at the helm of Britain's busiest airport.
The collapse in passenger numbers during the coronavirus pandemic appeared to put the controversial plan to construct a third runway on hold. Heathrow handled 24 per cent fewer travellers in 2022 than in 2019.
But Mr Holland-Kaye said: "We are still committed to expansion. We've already started some of the preliminary work on expansion, now that we have started to have the bandwidth to do that.
"We'll be saying more about our plans with that later this year."
Mr Holland-Kaye said the Covid pandemic had "shown just how important it is" for a third runway to be built, to increase capacity and resilience.
"All of the arguments we made about the opportunity to get the more long-haul markets happened over Covid when suddenly slots were available," he said.
"Suddenly we were able to offer more regional markets in the UK, connecting all of Britain to global growth.
"We also saw people realise just how important cargo is. As we were bringing in PPE it reminded people that unless you've got passenger planes flying, we don't have the trade routes that we need.
"So I think that has reinforced why Heathrow expansion so important.
"We weren't even allowed to talk about expansion in 2010 after the coalition government came in and yet by 2017 we were getting a majority of 4-1 [in favour of building a third runway] in Parliament.
"That's a fantastic turnaround and exactly the right thing for for the country."
The planned construction of a runway northwest of the present pair, as well as a new terminal, would increase aircraft movements by 260,000 per year – an increase of more than half.
Expansion has faced a series of legal challenges on the grounds that the project is wholly at odds with climate targets.
Reflecting on his time at Heathrow, Mr Holland Kaye contrasted the airport's image when he arrived as development director 14 years ago with its current reputation.
"When I joined Heathrow in 2009, we'd just been voted one of the worst three airports in the world. And as we went into Covid, we were in the top 10 airports in the world.
"That transformation of service at Heathrow is not just about buildings, it's about the whole culture that we have here.
"This I hope is a legacy for me at Heathrow: we are a consumer business. We're not an infrastructure business, we're not a shopping mall, we are a consumer business and our focus is on getting people through the airport quickly and consistently."
Heathrow and other airports ramped up operations after Covid travel restrictions ended in the UK in March 2022, exposing problems with staffing from ground handlers to security.
The LBC presenter Nick Ferrari said of his experience at Heathrow: "I swear, at times over the holiday period recently, that it has been like a Moscow bread queue, waiting to get service there."
In response to the overstretch, Heathrow was the only British airport to impose a cap on passenger numbers (though Gatwick limited the number of flights).
Emirates called the demand to cancel flights "entirely unreasonable and unacceptable". The Dubai-based airline said in a statement: "LHR chose not to act, not to plan, not to invest. Now faced with an 'airmageddon' situation due to their incompetence and non-action, they are pushing the entire burden – of costs and the scramble to sort the mess – onto airlines and travellers."
Paul Charles, chief executive of travel consultancy The PC Agency and a former Virgin Atlantic director, said: "I think there'll be a sigh of relief among airlines that fresh blood is coming in to Heathrow this year.
"The airport failed to plan effectively for recovery out of the pandemic and set back consumer confidence to travel last summer. Heathrow has not become the iconic symbol of modern, seamless travel that Britain should have. Airlines are looking forward to some fresh thinking.
"Heathrow has slumped down league tables in terms of performance, punctuality and quality compared with the more dynamic airports and competitors overseas and has tried to charge airlines over the odds for such a slump."
Heathrow has angered airlines by seeking sharp increases in charges, which are regulated by the Civil Aviation Authority.
Mr Holland-Kaye said the Covid pandemic had been "extraordinarily painful" but that he was proud of the way Heathrow had recovered.
"As you can probably imagine, I have not had a break for pretty much the last three years," he said. "It's just been 24/7 for most of that time dealing with really difficult things.
"My focus until I leave is just on Heathrow. We've got a lot of work to do. We've got a good plan to get ready for the summer.
"I'm not going to let up here and I'll start thinking about what I'll do next once I have handed over to somebody else.
"Heathrow genuinely is getting back to its best. To give an example of that, the departing punctuality on Saturday was higher than it was in 2019. So that's a real sign of how the whole airport ecosystem is recovering.
"We've collectively across all the companies hired 21,000 people in the last 18 months, which is extraordinary. So we're well placed for the summer."
Mr Holland-Kaye has been better rewarded than most aviation leaders. In 2019, the airport's most successful year, he earned £3.6m in salary, benefits, pension and bonuses – almost £10,000 per day.
Contenders are already jostling for his job. Mr Holland-Kaye said: "I'm hoping that one of the internal people who have been developing will have a chance to succeed. But I'm sure there are lots of good external people as well who want to come forward."
Possible candidates include Ross Baker, currently chief commercial officer with a useful decade of experience at British Airways, Heathrow's main customer; and Emma Gilthorpe, chief operating officer, who has been heavily involved in the airport's expansion plans.
Headhunters may be talking to outsiders such as Paul Griffiths, the British chief executive of Dubai Airports since 2007; and Steve Griffiths, currently chief operating officer of Transport for London and a former Virgin Atlantic director.
Whoever takes over will need to keep the overseas owners of Heathrow happy. The leading shareholder, with 25 per cent, is Ferrovial of Spain – though there has been speculation that the tranche could be sold to Saudi Arabian investors.
Qatar Holding, the sovereign wealth fund for the Gulf state, owns 20 per cent, with 11.2 per cent and 10 per cent held by Singapore and China respectively.
On the timing of his departure, Mr Holland-Kaye said: "I've been around for longer than most chief execs, and I think it's just a good time.
"From a personal point of view, it's been a good nine years – albeit some of it far more challenging than I would have expected.
"But also by the end of this year, the business will be recovered operationally, which is important to me.
"I really have no plans for what I'm going to do next other than having a break."