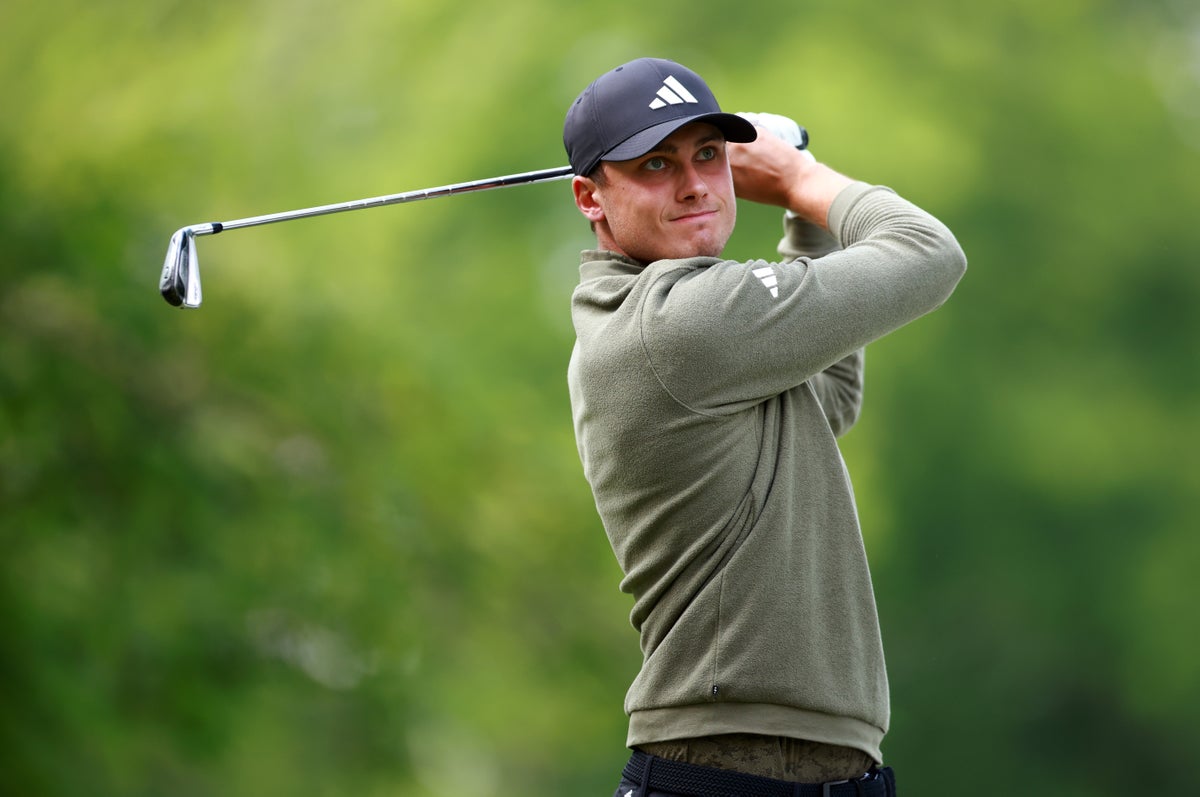 When Ludvig Aberg was 12 years old, a coach at his local golf club took some photos of his swing. One image, in particular, stood out: his body position at impact was immaculate, the sort a club member might spend many years – and many thousands of Swedish krona – trying and failing to achieve.
Eslov in southern Sweden is the kind of place where everyone knows everyone. The golf club sits on the edge of town, with a white panelled clubhouse and tree-lined fairways that demand a straight drive. Aberg first visited aged eight with his dad Johan, a keen five-handicapper, before taking lessons with Eslov's club coach, Tomas Setterhill.
"Ludvig was an easy kid," says Setterhill, speaking down the phone on a day off from teaching. "Some people just have it, they can hit the ball without being told. He didn't have to be taught that position."
There was something else that made Setterhill take notice of Aberg. Most children crumbled in tournament play, but Aberg hit the same shots in competition as he did practising with friends. "He scored the same and his swing looked the same, and that's rare."
Even so, no one in Eslov could have imagined Aberg's trajectory: how he would transform into one of the best teenage golfers in the world, how he would dominate US college golf, how he would barge his way into Europe's Ryder Cup team without yet playing a major tournament.
---
Standing out from the crowd
When Aberg was 15, he won a place at Filbornaskolan, a prestigious boarding school in Helsingborg which draws sporting talent from across Sweden. The school counts Henrik Larsson among its alumni, as well as several Olympic swimmers and professional golfers.
A typical day for golfers at Filbornaskolan could have been designed by Mark Wahlberg: up at 6.30am for breakfast in the dorm; school lessons; 90 minutes of physical training; lunch and more lessons; a 6km cycle to the 54-hole Vasatorps Golf Club outside the city, where players had dinner and spent several hours working intensively on their game; cycle back for homework and bed at 10pm.
There, Aberg met the golf teacher who remains his swing coach today, Hans Larsson.
"Ludvig didn't stick out at first," Larsson says, after knocking on a few classroom doors to find a quiet place to talk. "He was a good player but he wasn't top ranked. But when he left our school he did stand out. He was next level."
Surrounded by the best players, coaching and facilities Sweden has to offer, Aberg soon understood "what it takes to be good". He started to build the explosive muscles that underpin his long drive, and embraced targeted training in every element of his game.
His ball-striking with irons and driver began to catch the eye – and ear – of the school staff. "If you stood next to him and you just listened to him hit a ball… it's different," says Larsson. "It's not the typical sound."
Aged 18, Aberg entered his first European Tour event in Gothenburg with Larsson as his caddy.
On arrival, most debutants might pick an isolated spot at one end of the practice range, but Aberg walked right into the middle bay and began striping drives. Before his round, he would stride into the centre of the putting green and take up space. "I was blown away by how he handled that," says Larsson. Aberg was the only amateur in the 150-strong field, and he finished tied-34th.
It was these little signs that signalled someone unique; a player almost abnormally unfazed, able to locate his zen state when he needed it. "He's always been this chilled, calm guy and I think it's helped him a lot, especially when it gets stressful," says Larsson. "I think his mentality is probably because of his parents, it's in his genes."
Aberg chose to join high school a year late and took up the option for a further year at the end to fine-tune his game before moving to America. By his final two years, he was clearly the best male golfer at the school. "If we put up a test in ball-striking, he was the one the other kids wanted to beat. And he hated getting beat, so it was good motivation to stay on top."
At Wentworth recently, I had the chance to ask Aberg about his time at Filbornaskolan, and he smiled. "It was probably the first time that I started to practise – before that, I was just going out and playing. It's where I met my coach and we've had a great relationship ever since we started. He's one of the main reasons why I'm here today. It laid the foundation for my career and I'm forever going to be grateful for that."
Aberg arrived at Filbornaskolan as another promising teenager; he left four years later as one of the best young players in the world.
---
Breaking America
Aberg joined Texas Tech University aged 20. Young Europeans chase a coveted place in the US because college golf offers the highest standards of teaching and monitoring equipment, and increasingly it is a door to the PGA Tour. He dominated, winning the Ben Hogan Award (US universities' best player) in back-to-back years – the only other player to do that is Masters champion Jon Rahm.
One of his best performances came at Whispering Pines where he clinched the Big 12 Championship – the pinnacle of college golf –  by dismantling one of the most intimidating courses in Texas as if it were Lego. He began the final round in the lead and proceeded to hit 17 greens in regulation, without error. The only one he missed was by a foot.
"Ludvig is a once-in-a-generation kid," says Greg Sands, the head coach of golf at Texas Tech. "Quite frankly I don't know if I'll ever have another kid like that again."
Sands first spotted Aberg on a scouting trip to Europe and, after 20 years in the job, instantly recognised the potential. Here was a player with all the essentials – power, stature, efficiency, hand-eye coordination – and what Sands later discovered was an elite mentality that separated Aberg from other college players.
"He's got a really unique presence to him. The only way I can describe it is almost like an Ernie Els, where he just seems to be unflappable and not show his emotions and stay in the present. He can open the door and say OK, here's all the distractions, and then close that door and execute and go play golf."
Most players try to block out the leaderboard at the sharp end of a tournament but Aberg would actively seek out scores for motivation. Away from competition he trained the weaker parts of his game ferociously and taught himself the art of reading greens.
With advice from Larsson, Aberg also made a conscious decision to hit more drives in his final year at Texas Tech, even if it meant bringing hazards into play, in order to hone his long game for professional golf. He effectively handicapped himself, and it forced him to be piercingly accurate off the tee.
Sands says there are still areas for improvement, like his accuracy from 150 yards in. But he has no doubt about Aberg's ceiling. "He could be the best player in the world. And I think that's what he wants to do."
---
A dot on the radar
Last December, Team Europe's vice-captain Eduardo Molinari gave captain Luke Donald a call.
He realised what he was about to pitch – a college golfer playing in the Ryder Cup in 10 months' time – sounded slightly unhinged, so he had in front of him Ludvig Aberg's data to back up the point: ludicrous driving numbers and impossible consistency from tee to green; utterly commanding in competition, with clutch performances when it mattered most.
Aberg was now a dot on Donald's radar.
After rejecting $2.5m to join LIV Golf, he turned professional in June and claimed four top-25s in his first seven PGA Tour events; then came a trip to Europe which booked his place at the Ryder Cup, finishing fourth at the Czech Masters and winning the European Masters in the space of seven days. Aberg made it impossible for Donald to say no.
He has already impressed his new teammates. Playing with Victor Hovland, Aberg could not contain his pleasure as he revealed that they beat Rory McIlroy and Tommy Fleetwood while on a scouting trip at the Ryder Cup course in Rome earlier this month. "That was pretty cool," he grinned.
Playing as a rookie against the USA in the Ryder Cup's febrile atmosphere will be an altogether different experience. But Aberg's superpower is not only his ability to imagine a shot and execute it sweetly, but that the chain between his imagination and reality is not broken by fear or doubt or intrusive thoughts. The one thing that those who know him best all say is that stepping into unfamiliar territory does not alter the game of Ludvig Aberg.