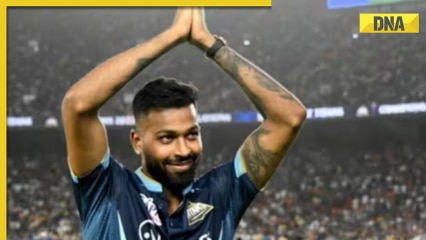 The CSK vs GT final for IPL 2023 was nothing short of thrilling, with MS Dhoni's Chennai Super Kings getting a last minute win against Hardik Pandya's Gujarat Titans. However, this IPL season was a definite success for Hardik Pandya, who ended up earning crores through the tournament.

Gujarat Titans captain Hardik Pandya was one of the highest-paid cricketers in the IPL 2023 season, with his bid in the IPL 2023 auction being over Rs 15 crore. Pandya was retained as the captain of GT, which faced Chennai Super Kings in the finals last night.
You will be surprised to know how much Hardik Pandya has earned through his IPL career. According to all the auction amounts and per match salary combined, the Gujarat Titans captain has earned over Rs 74 crore through his career in IPL.
Pandya debuted in the Indian Premier League in 2015 and started playing for Sachin Tendulkar's team Mumbai Indians, where he impressed all with his stellar performance. In 2021, he exited the team and was made the captain of the newly-formed Gujarat Titans in 2022, being retained in the team for IPL 2023.

It must be shocking to know that when he has just started playing the IPL in 2015, his IPL salary was just Rs 10 lakh for the entire season. Now, his per-season salary is Rs 15 crore. If one includes his per-match salary and bonus for good performance, then his per-match IPL salary is over Rs 1 crore.
Apart from just his IPL 2023 salary, Hardik Pandya also makes a massive amount of his wealth through brand endorsements and business investments, his yearly earnings going over Rs 1.5 crore for the last few years.

According to multiple news agencies, Gujarat Titans captain Hardik Pandya has a net worth of over Rs 91 crore as of 2023.

READ | Who owns Hardik Pandya's IPL team Gujarat Titans? All about French company with assets worth Rs 11 lakh crore