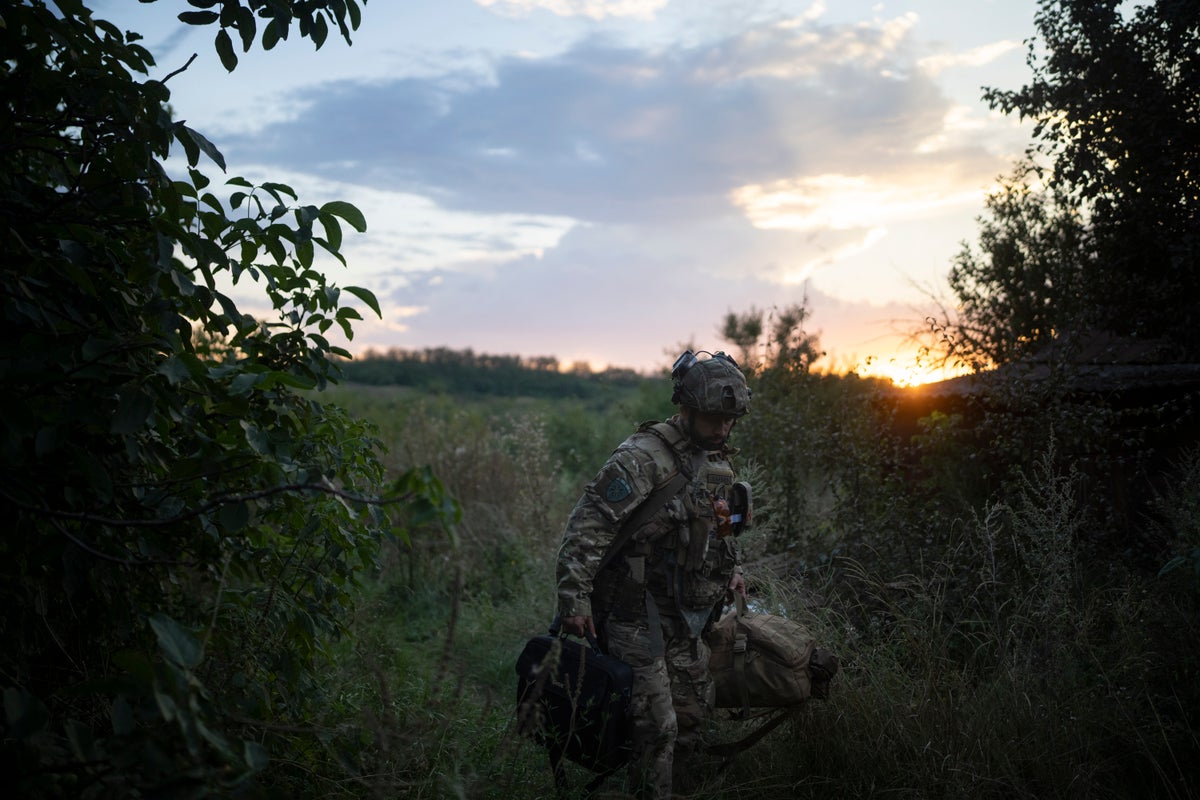 Ukraine's forces have made a number of breakthroughs against Russian positions in recent weeks as intense fighting rages on in southern and northeastern parts of the country.
The counteroffensive launched by Ukraine in June had been making gradual, if slow progress, in pushing back Vladimir Putin's troops from land seized since the invasion began.
But at the start of the month, there were signs that Kyiv's troops were starting to make inroads, as they broke Russia's first defensive line near Zaporizhzhia, in the southeast of the country.
Brig Gen Oleksandr Tarnavskiy, who is leading Ukraine's southern counteroffensive, said that Russian troops had dedicated 60 per cent of their time to its first defence, and only 20 per cent to the second and third lines.
He argued this would allow Kyiv's forces to attack "quicker". Since then Ukrainian forces claim they have taken the village of Robotyne, near Zaporizhzhia, and also broken through at the nearby village of Verbove.
In this way Kyiv's forces are creeping towards Tokmak, its first major target in the south, as part of its wider strategy to break Russia's land bridge that is across occupied southern Ukraine and links Russia with Crimea.
Ukraine has had further successes by sending unmanned sea drones and rocket strikes to disrupt the Russian war machine in the Black Sea, specifically targeting the Russian navy base in the city of Sevastopol in Russian-occupied Crimea.
Two weeks ago they used long-range Storm Shadow missiles from the UK to strike a submarine in the city of Sevastopol in Russian-occupied Crimea.
And in a further strike at the headquarters, Ukrainian forces claimed they killed the commander of Russia's Black Sea fleet, Admiral Viktor Sokolov, as well as 34 others.
Mark Galeotti, professor of Slavonic studies at UCL, described Ukraine's progress as akin "to how a dam breaks, you get a few cracks and then suddenly a big breach".
He said: "The Ukrainians have been pushing and been trying to find weak spots, they've been hammering away at Russia's supply lines and so forth.
"In some ways it was inevitable that they would make some progress, particularly once they had adapted their tactics so that they were more geared towards sending small units to try and clear a way through the minefields rather than thinking they could just bull their way.
"Because after all the Russians have pretty effective defenses in place. I think the trouble is we have a tendency to pendulum swing in our analysis, between gloom and doom and triumphalism.
"Momentum matters, but only up to a point and I think yes the Ukrainians have made progress. They've taken heavy losses in the course of that. The Russians, they are not showing any sign of collapsing, it's still hard fought."
Mr Galeotti said although Ukraine appears to have made some ingresses in recent weeks that there is no sign of "panic" in Moscow.
"They still have reserves, they are still in the fight and quite frankly, none of these things are wa- winning moments. There is nothing the Ukrainians could do to bring the war to a conclusion this side of Christmas. So it's really a question of how far can the Russians hold."
He added that Kyiv will hope to push their counteroffensive further south and sever the land bridge that is across occupied southern Ukraine that links Russia with Crimea.
Mr Galeotti added: "Failing that at least push south far enough that the road and rail links to Crimea come under fire-control, in other words, artillery can reach it.
"Then in effect you can start to, for want of a better word, besiege Crimea, you can bring down the Crimean bridge, you can target ships and planes bringing in supplies, you can cut the supply routes.
"The point about Crimea is it matters to Russians, ordinary Russians, in a way that none of the rest of Ukraine does. So there is a hope that if Crimea becomes under threat that might Putin to the negotiating table."