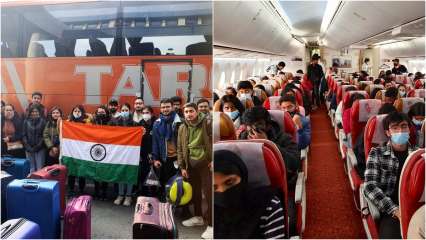 Even as there seems some panic among Indians over the stranded medical students in war-torn country of Ukraine, Indian government is relentlessly making efforts to reach out to the students there. 80,000 international students study in Ukraine, according to a data from Ukraine's Ministry of Education and Science.

The largest number come from India, followed by Morocco, Azerbaijan, Turkmenistan, and Nigeria. So far, India's evacuation programme, Operation Ganga, has been the most active among all nations which have their citizens in Ukraine.

Here is a comparative study of the evacuation been conducted by various countries from Ukraine.

Read | Is Russian invasion of Ukraine paving way for a worldwide nuclear war?

China (6,000 stranded nationals)
On February 24, China announced chartered flights for its nationals and requested its citizens leaving Kyiv to display signs of identification like Chinese flag. 

On February 26, the Chinese embassy urged its citizens to 'refrain… from displaying signs of identification', days after telling to fix a Chinese flag to their vehicles.

On February 27, Chinese ambassador to Ukraine released a video message saying current conditions were too unsafe to evacuate citizens.

China has issued no travel advisories and no support mechanisms, while India has released contact numbers, advisories and support mechanisms.

The ambassador dispelled rumours that he had left Kyiv and reassured the Chinese nationals left stranded in the war-torn country. 

The ambassador urged Chinese citizens to 'not quarrel with locals', after a number of unverified social media claims of rising hostility towards Chinese citizens. 

India (20,000 stranded nationals)
The Chinese have postponed their evacuation plans while the Indian Operation Ganga is proceeding.

Flights from India into Ukraine's neighbouring countries are continuing to bring back Indians. 
India has released contact numbers, advisories and support mechanisms and embassy is in full action.

Chinese nationals are being attacked in Ukraine but buses with the Indian flag are being given safe passage.

Read | When Ukraine President Volodymyr Zelenskyy played a role in Donald Trump's impeachment

US (900 employees stranded)
On February 27, US explicitly stated that the US government will not be able to evacuate its citizens from Ukraine.
Advisory urges US citizens in Ukraine to depart now using privately available transportation options if it is safe to do so. 
On February 22, the US Embassy released an online form, local (Ukraine) and international (US-based) phone numbers for communication.
US encouraged its citizens to enrol in the STEP enrollment for security updates and easy communication in an emergency.
It released a list of border crossings and phone numbers of embassy people at the various borders and specific locations where the US citizens can cross.
No specific evacuation effort has been undertaken by the US government to bring back its nationals from Ukraine. 
Even US citizens are having long waiting times at the Ukrainian border for evacuation through other neighbouring countries. 
US has asked its citizens to even carry food and other items for two days at the Ukrainian border. The waiting situation is similar for India.
UK gave its first advisory on February 17
It stated that Russia's military action in Ukraine will severely affect the British Government's ability to provide consular assistance in Ukraine.
British nationals should not expect increased consular support or help with evacuating in these circumstances, it clearly mentioned.
Contact numbers of the Foreign, Commonwealth and Development Office (FCDO) were released by the British government.
The British Embassy office in Kyiv has temporarily relocated. Embassy staff are operating from the British Embassy office in Lviv.
The in-person consular services that British Embassy office can provide are extremely limited and may be further affected by Russian military action.
Britain has asked its nationals to follow the advice of Ukrainian authorities with no additional assistance. An online form has been released.
Germany
The government of Germany has said that the German nationals are urgently requested to leave the country.
An evacuation by German authorities is currently not possible. The German Embassy in Kyiv is temporarily closed.
Soon after the US issued advisory to its citizen to leave Ukraine, Germany also issued a similar advisory on February 12, 2022.
Germany has said that it is not in a position to evacuate its citizens, while India's Operation Ganga is in full swing.
Egypt
The authorities in Ukraine and the Egyptian embassy were coordinating the return of Egyptian students.
The head of the Egyptian Community in Ukraine, Ali Farouk, last week informed the stranded students.
Egyptian students stranded in Ukraine have been calling on the embassy to help them evacuate soon.
Some students took matters into their own hands and crossed the border into Poland, hoping to make it back home.
Morocco
Morocco's embassy in Ukraine continues to closely monitor the evacuation process.

It has instructed Moroccans to head for the closest land crossing-points joining Ukraine and Poland, Romania, Slovakia, or Hungary.

The government provided Moroccans with free-toll phone numbers to aid the evacuation process.

Many Moroccans are currently moving towards crossing points between Ukraine, Poland, Slovakia, Romania and Hungary on their own.
Nigeria
The Nigerian government said that it had 'received with surprise' reports of the Russian invasion, and that once airports are open, it would assist people.

Students from Nigeria felt that message they were largely receiving from the Government translated to the fact that they were 'on their own'.