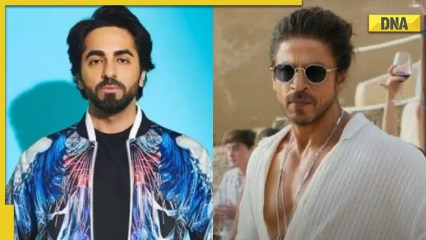 Ayushmann Khurrana's latest release An Action Hero did not do any magic at the box office. The film managed only Rs 17 crore gross but received favourable reviews. Finally, as it released on Netflix last week, fans began to give the film some appreciation. On Thursday, one fan tweeted to Ayushmann praising An Action Hero and even referring to Shah Rukh Khan's Pathaan rather unfavourably in the tweet. Ayushmann's sweet response to it, however, won fans over.

Pathaan has been Shah Rukh's comeback vehicle and has smashed box office records worldwide. The film has already grossed Rs 700 crore worldwide. Referring to the mania around this film and the relative apathy towards An Action Hero, a fan tweeted on Thursday, "Screw Pathan, watch Action Hero on Netflix! Story, dialogues, background music, the subtle middle finger shown to Indian news channels and their crass reporting, @ayushmannk has KILLED it! But my fav was the guy mimicking Arnab." On Friday morning, Ayushmann liked the tweet and responded, "Thanks for loving An Action Hero. Could've avoided the first line though I'm an SRKian!"

Thanks for loving An Action Hero. 

Could've avoided the first line though  I'm an SRKian!
— Ayushmann Khurrana (@ayushmannk) February 3, 2023
Ayushmann's sweet acknowledgement of the praise as well as sticking up for his idol's film ha fans gushing over him. One tweet read, "I too enjoyed Action Hero but I loved your reply more." Another fan replied, "You win our hearts when you show your real self. Respect and love from one SRKian to another."
Many Shah Rukh Khan fans criticised the original tweeter for bringing down Pathaan unnecessarily in her tweet. "Absolutely you can praise one while slating the other," tweeted one. Another added, "That's the thing. People need to learn to appreciate one without humiliating the other. Guess they do it for attention, sad."

An Action Hero, directed by Anirudh Iyer, is a dark comedy-cum-action thriller. The film, which was released on December 2, also stars Jaideep Ahlawat, Harsh Chhaya, and Neeraj Madhav, along with a cameo from Akshay Kumar.