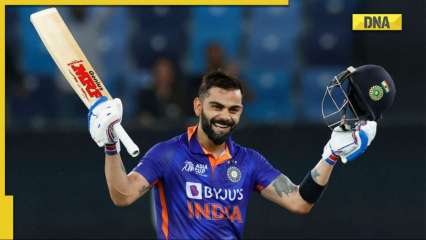 Indian batting star Virat Kohli is looking in ominous form these days as the former India captain hit an 80-ball hundred to help India register a 67-run win over Sri Lanka in the first ODI in Guwahati on Tuesday (January 10). This is Kohli's 45th ODI hundred and 73rd international ton.

"I don't think there was anything different. My preparation and intent always remain the same. I thought I was hitting the ball nicely. It was close to the template I play with, I understood we needed an extra 25-30 runs. I tried to understand the conditions in the second half," Kohli said after the match.

"Tried to get a comfortable total for us on the board. The one thing I learnt was desperation doesn't get you anywhere. You do not need to complicate things. You go out there and play without any fear, I can't hold on to things. You have to play for the right reasons and almost play every game like it's your last and just be happy about it. The game is going to move on. I am not going to play forever, I am in a happy space and enjoying my time playing," he added.
Kohli's good form in the run-up to ODI World Cup this year is a good sign for India as he is going to play an important role in the middle-order during the showpiece event. Legendary batsman Sachin Tendulkar also hailed Kohli for his innings against Sri Lanka and said, "Keep doing great like this. Keep illuminating the name of India."

"I am glad I could play at the tempo of the game. We are glad that our intent has come off, and we have ended up with 370-plus instead of 340," Kohli said in the mid-innings break. "Luck is important, it plays a part. I am grateful for it, and bow my head and accept it."