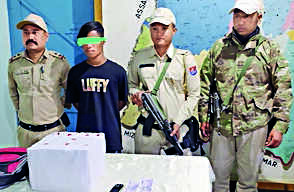 IMPHAL
: Stepping up the N Biren Singh government's "War on Drugs 2.0" campaign, the police on Monday afternoon confiscated 5 kg of brown sugar from a 19-year-old "smuggler" in the Singjamei area here.
Acting on specific information, commandos of Imphal West district police carried out frisking and checking of suspected vehicles and people near Singjamei parking around 1.30 pm, the district's superintendent of police Ksh Shivakanta told reporters at a media conference at his office complex on Tuesday.
The commandos then arrested Phundreimayum Wakil Ahmed of Lilong Haoreibi Turel Ahanbi area in Thoubal district along with the drugs kept in five plastic packets from a van, the SP added.
During preliminary investigation, Ahmed disclosed that the drug consignment was handed to him by a man and the same was to be handed over to another person in Imphal.
Following his disclosure, steps have been taken up to nab the two persons and others involved in the smuggling, the police officer said, adding that a case has been registered at Singjamei police station.
As part of the anti-drugs campaign, the police and other security agencies have seized large quantities of drugs, including brown sugar, heroin, opium and World is Yours (WY) tablets from various parts of the state since the past few years. The government has also intensified the destruction of poppy plantations in the hill districts of the state.